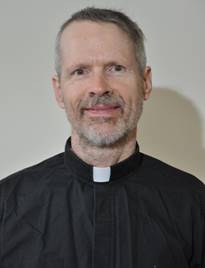 Father John J. Ruessmann, MM
Born: March 26, 1952
Ordained: May 19, 1979
Died: November 14, 2017
Father John J. Ruessmann died on November 14, 2017 in Manassas, Virginia. He was 65 years old and a Maryknoll priest for 38 years.
John Joseph Ruessmann was the fourth of eight children born to Walter J. Ruessmann and Evelyn Hope Miller. He was born in Detroit, Michigan, on March 26, 1952. He attended St. Hugo of the Hills grammar school, and graduated from Sacred Heart Seminary High School, Detroit, Michigan in 1969. He entered Maryknoll at Glen Ellyn in September 1969. When Glen Ellyn closed in 1971, John completed his novitiate year at Hingham, Massachusetts, before continuing studies at Georgetown University, Washington, D.C., where he received his Bachelor of Science Degree in Foreign Service in 1974. As a seminarian, John's Overseas Training Program (OTP) was in the Philippines from September 1976 to the summer of 1978. In 1979 he earned his Master of Divinity degree from Maryknoll School of Theology, Maryknoll, NY.
Father Ruessmann was ordained on May 19, 1979, and was assigned to the Philippines, where he worked for four years as Associate Pastor of a rural parish, Mabini, in Davao del Norte on the island of Mindanao. In August 1983 he was assigned to Venezuela, serving as Associate Pastor of three parishes until 1989. In 1990 he was assigned to Guatemala.
In mid-1991, Father Ruessmann returned to the U.S. to work in the Development Department in New York and Connecticut for three years, a period of "mission promotion": sharing experiences, recruiting and fundraising for Maryknoll. In 1995, he returned to Guatemala. He considered his Guatemalan assignment to be the high point of his mission career. First as a pastor of a small, rural parish dedicated to St. Francis of Assisi, and then as an Associate Pastor of a large, rural parish in San Luis, Peten, Guatemala, Father Ruessmann regularly visited more than 45 Q'eqchi communities, often by horseback. He found living and working with the Q'eqchi villagers of northern Guatemala enriching and challenging. He was grateful to God for his fellow workers and friends, both in the parish and in the vicariate (diocese); and the vicariate team which included Assumption Sisters, Maryknoll priests, lay missioners and a seminarian who together met every two months with their bishop, to share pastoral experiences and reflections; pray and plan together.
Year after year, Father worked to understand and appreciate the Q'eqchi experiences, traditions and perspectives. With their way of life as the starting point, he sought to help them grow as committed Christians and Catholics. The formation and on-going education of lay leaders was a high priority for him. As well, working with local contacts, he encouraged his parishioners to learn and use natural ways of healing, such as medicinal plants, acupressure and good nutrition, with their local produce. On many occasions, he partnered with other Church leaders to resolve tensions and conflicts in the communities which he visited. As a practical matter, he promoted reforestation in the communities, encouraging using their resources, and their capabilities, to work together to solve this and other problems. His ideal was to help participants grow in a healthy sense of their own worth as individuals and as a community.
Father was elected Assistant Regional Superior for the Central America Region, serving in that capacity for three years beginning October 1, 1998. His mission work in Guatemala was featured in the April 2000 issue of the Maryknoll Magazine, in the article "Gospel on Horseback." He was chosen to be a delegate to the Eleventh General Chapter which took place in Bangkok, Thailand and Maryknoll, New York in 2002. Two articles written by Father Ruessmann have been published in the magazine, The Bible Today.
In April 2006, Father Ruessmann returned to the United States and took a 1-yr sabbatical, before taking up residence at Mission St. Teresa's on the Maryknoll campus.
A Rosary and wake service was held at 4:00 p.m. on November 30, 2017 at Mission St. Teresa's. Father Ruessmann's family received condolences and prayers Friday, December 1, 2017 from 3:00 p.m. to 4:00 p.m. in the Lady Chapel. The biography was read by Father Norbert Pacheco. Mass of Christian Burial was concelebrated in Queen of Apostles Chapel on December 1, 2017 at 4:00p.m. Father Kevin Hanlon was Principal Celebrant and Father Michael Duggan was homilist. Father Ruessmann's remains were placed in the Columbarium at Maryknoll, New York.