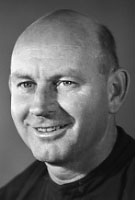 Father John J. Stankard, MM
Born: August 4, 1917
Ordained: June 9, 1946
Died: January 15, 1995
Father John Joseph Stankard died at 5:00 P.M. on Sunday, January 15, 1995 at St. Teresa's Residence. He was 77 years old and a Maryknoll priest for almost 49 years.
John J. Stankard, son of John Joseph and Mary Sheehan Stankard, was born on August 4, 1917 in Hull, Massachusetts. He attended the local grade school and Belmont junior high and graduated from Mount Saint Charles Academy in Woonsocket, Rhode Island. John entered the Maryknoll Apostolic College (Venard), in Clarks Summit, Pennsylvania on September 7, 1937. He was ordained a priest at Maryknoll Seminary in New York on June 9, 1946.
After ordination Father Stankard was assigned to the Maryknoll Mission Region in Hawaii. Upon his arrival in Honolulu on August 11, 1946, he began his 46 years of successful pastoral ministry in the local Church among the peoples of the Hawaiian Islands and in Society leadership in Maryknoll. He had a remarkable pastoral career. He served as Assistant Pastor in three different parishes, as Pastor in five parishes and was a personal friend and advisor for three Bishops of the Diocese. His first assignment was as 2nd Assistant Pastor of Sacred Heart Church in Honolulu. He remained there for about four years, during which time he set up classes for the children and CYO sports for the older boys.
In 1950, Father Stankard was appointed 2nd Consultor to the Regional Superior and moved to the Island of Hawaii as Pastor of Sacred Heart Parish in Naalehu with a mission church in Pahala. He served there for about 4 years and in 1952 he built a rectory in Pahala and had the Bishop upgrade the Pahala mission as the independent Holy Rosary Parish; then he moved into the new rectory as the first Pastor of the parish. During Home Leave in 1953 he attended classes in Educational Psychology and Supervision in Secondary Education, which served him well in managing parochial schools in his parishes. In June of 1954 he was appointed Pastor of St. Anthony Parish in Papaaloa which had three mission churches attached to it. Then he was given an Assistant pastor.
In 1956 he was transferred back to Honolulu as Pastor of Sacred Heart Parish with its large Maryknoll Grade and High Schools.
On August 18, 1959 Father Stankard was appointed Regional Superior of the Hawaii Region; and was reappointed for a second term on August 18, 1964. He attended the Fifth General Chapter in 1966 at Maryknoll, New York, during which he was elected 4th Assistant to the Superior General. A Maryknoller with whom John worked closely said of him: "John was always very well like because he spoke his mind –you knew where you stood with him. He was respected for telling the truth clearly as he saw it." In November of 1968 he fell ill, but recovered and returned to a full work schedule for another 24 years.
After leaving the General Council in April 1973, Father Stankard returned to the Island of Hawaii and was assigned, as Assistant Pastor of St. Joseph Parish in Hilo. For the third time he was appointed Regional Superior of the Hawaii Region on January 1, 1975 for a term of three years; and reappointed for his fourth term as Regional Superior on January 1, 1978. As such, he attended the Seventh General Chapter at Maryknoll, New York. On October 1, 1980 he was appointed Pastor of St. John the Baptist Parish in the Kalihi area of Honolulu, with a parochial school of 325 children. In March of 1988 he was again appointed Pastor of Sacred Heart Parish in Honolulu. During the following years as Pastor and President of the Maryknoll Schools, he remodeled both the Grade and High School buildings.
Father Stankard kept careful watch over his health and daily could be seen jogging or bicycling through the streets of Honolulu, or swimming at Waikiki beach. On May 23, 1992, however, he fell ill and spent time recovering at Queen's Medical Center in Honolulu. After recovery, in January 1993, Father Stankard retired and took up residence at Maryknoll Residence, Los Altos, California. However, due to failing health, he moved to St. Teresa's Residence in November 1994.
Wake services will be conducted in St. Teresa's on Wednesday evening, January 18th, at 7:00 P.M. and in Our Lady Queen of Apostles Chapel at 7:30 P.M. Fr. Leo Shea, M.M. was Principal Celebrant and Fr. Alphonse Schiavone, M.M. was homilist at the Concelebrated Mass offered on Thursday, January 19th at 11:30 A.M. in Our Lady Queen of Apostles Chapel at Maryknoll, New York. Graveside services were conducted by Fr. Kenneth Thesing, M.M.