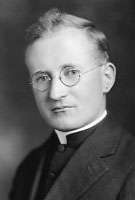 Father John J. Tierny, MM
Born: February 20, 1892
Ordained: June 19, 1927
Died: March 18, 1961
John J. Tierney was born in Termon, Co. Cavan, Ireland on February 20, 1992. In October of 1911 he came to America and worked at the Hotel Grosvenor in New York City. During the winter of 1914 he attended night school at St. Peter's College in Jersey City, and the following year he entered Cathedral College in New York City. He was graduated in June of 1921. He entered Maryknoll on September 1, 1921 and was ordained on June 19, 1927.
He was assigned to the Kongmoon Mission, China. In March 1938 he came home on furlough and returned to China the following year.
In December, 1951 he was seized by the Communists at his mission in Tungchen, underwent a public trial and was placed under house arrest until May, 1952 when he was ousted from China and arrived in Hong Kong. He was then granted a furlough. In 1953 he helped out in a parish in South Carolina and remained there until 1954 when he was appointed assistant at the Chinese parish in Chicago.
In 1954 he received medical treatment before returning to South Carolina. In July of 1955 he was assigned to Hawaii where, in June 1960, he fell ill, and returned to San Francisco for medical care.
Father Tierney died at St. Mary's Hospital in San Francisco on March l8, 1961, after a long illness.
The funeral was held at Mountain View, California on March 22 and burial was in the cemetery there.