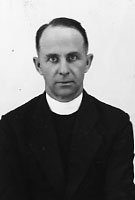 Father John J. Toomey, MM
Born: June 20, 189O
Ordained: June 10, 1922
Died: January 12, 1963
Father John Joseph Toomey was born in New Bedford, Massachusetts on June 20, 1890. After graduation from St. Charles College, Catonsville, Maryland, he entered St. Mary's Seminary in Baltimore as a candidate for the Fall River Diocese. He had finished two years of Philosophy when he was accepted for Maryknoll in September, 1918. He was ordained on June 10, 1922 and assigned to Kongmoon, China. After five years he was transferred to Manila where he was appointed Local Superior and director of the student hostel for university students of the city, known as St. Rita's Hall. He continued there until 1930 when he returned to the States for a furlough. It was during this year that he and Father Cairns toured many cities, putting on a two-man act in which they wore Chinese gowns and introduced their audiences to the intricacies of Chinese social life. The following year he returned to Kongmoon where he served in various capacities and in 1941 was appointed Procurator and Local Superior of the Maryknoll house at Stanley, Hong Kong. It was a very difficult assignment for in a few months Hong Kong fell to the onslaughts of the Japanese Army. During the fighting Father Toomey several times risked his life to care for wounded soldiers. Together with the other occupants of the Maryknoll house he endured the threat of execution and then the trying circumstances of internment in the Warden's quarters of Stanley Prison. In some extraordinary way, never fully accounted for, the Maryknollers were released from the prison except for Fathers Meyer and Hessler who elected to remain and care for the Catholic internees. Father Toomey made his way eventually to India and was asked to accompany back to the States one of our priests who had fallen ill.
For three years Father Jack gave himself generously to promotion, always managing to see a bit of humor in even the most difficult task. At the end of the war he was back in Kongmoon where he was named Vicar Delegate by Bishop Paschang. He took up residence as pastor of Toishan City. He was placed under arrest when the Communists took over the city in April 1951 and remained a virtual prisoner in his house until his eviction from China on June 28th, 1952. Returning to the States he was granted a furlough and then assigned to the Chicago Chinese Mission where he assisted until 1957. From that time on he carried out his duties at the New Orleans promotion house. Prevented by age and a heart condition from doing the more active part of promotion work, he was still able to make a valuable contribution by carrying on the details that someone has to be available for. His fine spirit and genial nature made visitors feel very welcome.
Father Jack Toomey passed away quietly in his sleep on Saturday morning, January 12th. A Solemn Mass of requiem was celebrated at St. Anthony of Padua Church in New Orleans and burial took place at Maryknoll, N.Y.