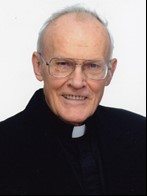 Father John J. Vinsko, MM
Born: May 30, 1931
Ordained: June 9, 1962
Died: June 6, 2020
Father John J. Vinsko, MM died on June 6, 2020 at the Maryknoll Society Center at Maryknoll, New York.  He was 89 years old and a Maryknoll priest for 57 years.
John Joseph Vinsko, son of Francis and Mary Vinsko, was born on May 30, 1931.  He was the second youngest in a family of five sisters and four brothers. He graduated from North Catholic High School in Pittsburgh, Pennsylvania and attended St. Vincent College on a full-tuition scholarship and graduated with honors, earning a B.A. in Political Science.  He then entered St. John's University Law School in Brooklyn, New York but took a leave of absence to fulfill his military obligations with the intention of continuing his studies under the Korean G.I. Bill.  He served in the military as a U.S. Army counter-intelligence agent.  He was discharged in March 1956.
While waiting to re-enter St. John's University Law School the following September, he made a retreat and read Confessions by St. Augustine and Seven Story Mountain by Thomas Merton, both of which instilled in him a desire to become a missionary priest.  Recalling that he had read about the exploits of Maryknoll Missioners in the book Men of Maryknoll, he entered Maryknoll at the Venard as a special Latin student in September 1956, and was ordained on June 9, 1962.
Following ordination, Fr. Vinsko was assigned to the Japan Region where he served as an assistant in parishes in Ise and Tsu in Mie-ken and Iwamizawa in Hokkaido. While serving as pastor of Owase in Mie-ken, he returned home on sabbatical in June 1973.  While on sabbatical, Fr. Vinsko was assigned to studies at Graduate Theological Union (GTU) in Berkeley, California where he earned an M.A. in Pastoral Counseling.  Before returning to Japan, he also obtained a Master's degree in Asian Studies at the University of Hawaii in 1975.
Upon returning to Japan, Fr. Vinsko was appointed Japan's Regional Justice and Peace Coordinator and was appointed by the Region to the Japanese Catholic Council for Justice and Peace to work under the direction of Bishop Aloysius Soma, who appointed him as the Council's International Secretary.  In that capacity, Fr. Vinsko played a key role in the Council's attempts to urge the dictator, Chan Doo Won, to spare the life of Kim Dae Jung, who was in prison awaiting execution.  The Council's efforts were successful, and Kim was not executed.  He was eventually released and went on to be elected as the first Catholic Prime Minister in South Korea's history.
In 1981, at the request of the Pacific Partnership for Human Development, Fr. Vinsko, together with Mr. Nishio Yukio, a social science teacher from Hiroshima, was commissioned by Bishop Soma to travel to Australia, New Zealand, New Guinea, Fiji, Guam, and Hawaii to campaign against Japanese plans to dump nuclear waste in the Pacific Ocean.  Fr. Vinsko was also on the Board of Directors for the Center for the Progress of Peoples, an organization founded by Fr. Gene Thalman MM in Hong Kong.
In September 1986, after suffering several health problems, Fr. Vinsko returned to Japan.  Shortly after his return, he was assigned to the Hawaii Region at the request of the Hawaii Regional Superior, to minister to the Japanese expatriate Catholics living in Honolulu.  At the same time, Fr. Vinsko served as an Assistant Pastor in the Parishes of St Anthony's in Kalihi and Holy Trinity in Hawaii Kai, Honolulu.  Unable to continue this dual ministry due to his health, he retired and took up residence at Maryknoll Los Altos.  There he ministered to the Japanese expatriates living in the Silicon Valley.
In 2014, Fr. Vinsko was assigned to the Senior Missioner Community and returned to Maryknoll, New York.  While in retirement, he continued to encourage fellow members of the Senior Missioner Community to become pro-life and encouraged them to engage in pro-life activities.  He spent his final years promulgating the Apostolic Pardon, which, according to the Book of Indulgences, # 28, provides "full remission of all temporal punishment due to sin when administered to a dying patient." It was Fr. Vinsko's hope that it would continue to be routinely bestowed on every dying Maryknoller.
A Mass of Christian Burial was celebrated in Queen of Apostles Chapel on June 9, 2020.  Fr. Kevin Hanlon was Principal Celebrant and homilist, and Fr. John Felago read the Oath and biography.  Burial followed in the Maryknoll Society Cemetery.