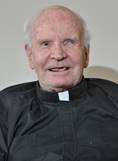 Father John J. Walsh, MM
Born: April 22, 1933
Ordained: June 10, 1961
Died: September 23, 2016
Father John J. Walsh died at Phelps Memorial Hospital, Sleepy Hollow, New York on September 23, 2016.  He was 83 years old and a Maryknoll priest for 55 years.
John James Walsh was born on April 22, 1933 in New York City, the only child of Thomas and Bridget Gallagher Walsh.  He attended St. Frances de Chantal Elementary School and graduated from LaSalle Academy, New York City, NY in 1951.  John completed one year at Manhattan College in New York before being accepted by Maryknoll.  He reported to Maryknoll Junior Seminary (Venard), Clarks Summit, Pennsylvania in 1952.
After attending Maryknoll Junior College in Lakewood, New Jersey; Maryknoll Seminary in Glen Ellyn, Illinois; the Maryknoll Novitiate in Bedford, Massachusetts and Maryknoll Seminary in New York, Father Walsh was ordained a priest at Maryknoll Seminary in New York on June 10, 1961.
Father Walsh taught at Mountain View from 1961 through 1964, at which time he was assigned to the Maryknoll Mission Region of Japan.  During his thirteen years in Japan, Father Walsh authored the Christian Discovery Series (42 pamphlets in Japanese) with the cooperation of the Oriens Institute for Religious Research in Tokyo.  These pamphlets were translated into Chinese and Korean.  A total of over 4,000,000 copies were distributed in Asia.
Father Walsh also taught "New Insights for Spirituality and Ministry" at Maryknoll, New York.  This was part of the Maryknoll Seminarians' and Brother Candidates' Formation Program and the Maryknoll Mission Association of the Faithful Candidates' Orientation Program.  He also gave lectures at various updating and renewal programs.
He was co-author, with Father James DiGiacomo, S.J., of Winston Seabury's Encounter Series.  The Series consisted of three texts (The Longest Step, Meet the Lord, and Going Together) plus three Resource Manuals.
For many years, Father Walsh was a frequent lecturer to educators, various parish and diocesan groups, youth, clergy and religious organizations.  He also gave workshops on ministry in Korea, Venezuela, Kenya, Tanzania, Guatemala, Papua New Guinea, Solomon Islands, Australia, Taiwan, Ireland, Canada, Mexico, England, and South Africa.
Father Walsh was the author of Evangelization and Justice: New Insights for Christian Ministry (Orbis Books), So You Want to do Ministry (with James DiGiacomo, S.J.) (Orbis Books), Integral Justice: Changing people – Changing Structures (Orbis Books), and Christian Discovery: The Road to Justice (with James DiGiacomo, S.J.) (Orbis Books).
Over the years, Father Walsh visited six continents and at least 30 of the 50 states in the U.S.  Father Walsh was granted retired status in March 2009.  Although retired, he continued to do limited work with the vocation prospects, new seminarians and Brother candidates, new Sisters and new Lay Missioners.
In 2010, Father Walsh became a resident at Mission St. Teresa's and in January 2016, he was appointed to the newly formed Mission St. Teresa's Prayer Partners Team.
A Rosary and wake service was held at 4:00 p.m. on September 29, 2016 at Mission St. Teresa's.  The body was received at the Maryknoll Society Center at 9:30 a.m. on September 30, 2016.  Father Walsh's family received condolences and prayers until 10:45 a.m. in the Lady Chapel.  The biography was read by Father Richard A. Aylward, M.M..  Mass of Christian Burial followed at 11:00 a.m. and was concelebrated in Queen of Apostles Chapel.  Father Emile E. Dumas, M.M. was the Principal Celebrant and homilist.  Burial followed in the Maryknoll Society Cemetery.