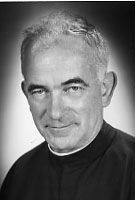 Father John J. (Kelly) Walsh, MM
Born: June 28, 1906
Ordained: June 11, 1933
Died: January 24, 1997
Father John Joseph Walsh died in the early morning of January 24, 1997 at St. Teresa's Residence, Maryknoll, New York. He was ninety years of age and a Maryknoll priest for 63 years.
John was born in New Haven, Connecticut, on June 28, 1906, son of Timothy Joseph and Catherine Kelly Walsh. He had one sister and one brother. John's mother had died in 1925 and his father was injured in a tragic auto accident on his way to John's ordination and died the next month. He completed grammar school at Sacred Heart Parochial School and graduated from New Haven High School. After graduation he worked in a local company for two and a half years. In January, 1925, he entered St. Thomas Minor Seminary, Bloomfield, Connecticut, to study for the priesthood in the Hartford Diocese. From September 1927 to June 1931, he studied at St. Mary's Major Seminary, Baltimore, Maryland.
John wrote that he wanted to be a priest since his 7th grade at Sacred Heart and that it was the missionary spirit and example of the Sulpician Fathers at St. Mary's Seminary that led him into Maryknoll at the end of his second year of theological studies. He joined the Maryknoll Society on September 3, 1931, and was ordained a priest at Maryknoll Seminary, New York, on June 11, 1933.
After ordination, Father "Kelly" Walsh – as he was known to distinguish him from other John J. Walshes in Maryknoll – was assigned to the Maryknoll mission in Japan but after six months was transferred to Maryknoll's Japanese and Korean mission in Antung, Manchukuo, where he served for eight years. With his talents as a mimic and a musician, he became exceptionally good in the Japanese language and fair in Korean. His Superiors wrote that he was an excellent missioner, able to adapt himself to any condition and accomplished much good among the people.
During World War II he was interned by the Japanese and repatriated to the United States from Fushun, Manchukuo, in September, 1942, on the Swedish ship Gripsholm. In November of 1942, he was named Group Superior of the pioneer Maryknollers in Maryknoll's new mission in Guayaquil, Ecuador, South America. Again, his language ability enabled him to master Spanish. He was very sociable, well liked by both Ecuadorians and expatriate Americans and much sought after for one service or another. In May 1945, he was recalled to the United States for work in the Japanese Relocation Camp at Heart Mountain, Wyoming, where he served until its closing in 1945.
Father Walsh was again assigned to Manchuria (formerly known as Manchukuo) in November, 1945, but the assignment was changed to Kyoto, Japan, because of government restrictions on entrance into Manchuria. He served for two years in Japan, first as pastor of the Takano Church in Kyoto and then as pastor of the Otsu Church. He was recalled to the United States in September 1949 to serve as the Director of the Maryknoll Brothers in Brookline, Massachusetts. After a year, he was transferred to the Maryknoll College faculty, Glen Ellyn, Illinois, where he taught Latin, Spanish and religion classes and served as Director of the Brothers. At the same time, he took night classes in Spanish at Loyola University in Chicago. His Superior at Glen Ellyn wrote: "Father Walsh is all heart, perhaps a bit too much so. Meeting people is his bread and butter. He does much good in his kindly approach and interest in people. As a Guest Master at the College, he is Maryknoll's best salesman here. He is always available, sacrificing himself for others and has built up great respect for Maryknoll in Glen Ellyn."
Father Walsh was again assigned to Maryknoll"s mission in Korea in July of 1953 and immediately placed in charge of the Chechon Chung mission with its orphanage. The former pastor, due to an accident, left the mission suddenly just before Father Walsh arrived. He found 40 orphans with nothing to eat and no one to take care of them. In spite of language barriers, he did an excellent job of caring for the orphans and the mission for two years. Then he was transferred to the Chongju Center as assistant pastor of the Church and English teacher at the local college.
In 1959, Father Walsh returned to the United States on Home Leave and remained for the next ten years helping out in a variety of short assignments. He served in 1960 at St. Patrick's Cathedral, New York City; in 1961 in Cristo Rey Parish, Lansing, Michigan, working among Spanish-speaking parishioners; in 1962 to 1966 in development work in the Philadelphia Development House; in late 1967, in St. Francis Xavier Japanese Mission in Los Angeles, California. In 1968, he moved into St. Teresa's Residence at Maryknoll, New York, and remained there until November 1971 when he was transferred to Maryknoll Residence, Los Altos, California for about two years. He was enrolled in the Special Society Unit on April 6,1975. He returned to St. Teresa's in September 1979.
Father Walsh had four overseas assignments during his long life as a Maryknoll Missioner and proved himself a dedicated missioner in the service of his people. During the last fifteen years of his life he experienced severe psychological distress which required periodic hospitalization. His last years at St. Teresa's Residence were happy and contented ones. As the best piano player among the residents, he often led community singing of favorite ballads and songs during social hours and festive occasions.
Wake services were held at 7:00 p.m. on January 27, 1997 at St. Teresa's Residence Chapel, and at 7:30 p.m. at Queen of Apostles Chapel at Maryknoll Center where Fr. Joseph Towle officiated. Mass of Christian Burial was concelebrated at Queen of Apostles Chapel on January 28, 1997 at 11:00 a.m. Fr. Edward Manning was Principal Celebrant and Fr. Robert Reiley was homilist. Burial followed at Maryknoll Center Cemetery with Fr. Jeremiah Burr conducting the graveside service.