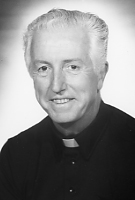 Father John K. Halbert, MM
Born: February 29, 1932
Ordained: June 13, 1959
Died: June 6, 2008
Father John Halbert died on June 6, 2008 at Phelps Memorial Hospital, Sleepy Hollow, New York. He was 76 years old and a Maryknoll priest for 49 years.
John Kenneth Halbert was born February 29, 1932 in Drexel Hill, Pennsylvania, son of Leslie and Alice Jean Doherty Halbert. He attended St. Andrew Parochial School in Drexel Hill and graduated in June 1950 from West Catholic High School in Philadelphia, Pennsylvania. After attending Villanova College for one year, studying Engineering, he entered Maryknoll in September 1951 at Lakewood, New Jersey and was ordained on June 13, 1959.
After ordination, Father Halbert attended Catholic University where he received an M.A. in English Literature in June of 1961. He also took advanced courses in Psychology at Loyola University, Chicago, Illinois. In March 1961 Father Halbert was assigned to be Dean of Students and Associate Professor of English Literature at Glen Ellyn Seminary College in Illinois. In July 1967 he was assigned to the newly created Office of Society Personnel at Maryknoll, New York. In May 1971, Father Halbert was assigned to work in the Archdiocese of Karachi, West Pakistan and in preparation studied Islamic Culture and Language (Urdu) at McGill University in Montreal. Unfortunately this assignment did not materialize as he was unable to acquire a visa to Pakistan.
In May 1972 Father Halbert was assigned to Maryknoll's Mission in El Salvador, serving as pastor at Madre del Salvador Parish and on January 1, 1978 became First Assistant to the Regional Superior of the Central America Region. He later said that one of the most important things he learned during his missionary career was "how much fun mission life can be." In 1978 Father Halbert was elected a Delegate to the Seventh General Chapter and was elected a member of the General Council, serving as Vicar General. During his tenure on the General Council, in June 1982 Father Halbert was appointed the President of the Maryknoll School of Theology at Maryknoll, New York and served in that position until 1985. In 1985 Father Halbert was reassigned to Central America where he was pastor of an urban parish in El Salvador.
In August 1989 Father Halbert was assigned to the U.S. Region and again appointed President of the Maryknoll School of Theology, being reappointed in 1992 for a three-year term. On August 1, 1994, while continuing as President of the School, Father Halbert was appointed Vicar of the Special Society Unit and in this capacity attended the Tenth General Chapter held in Hong Kong in October 1996. On August 1, 1997, he was appointed Superior of the newly created Retirement Community and continued in this position until Nov. 6, 2002. At that time, he was assigned to the Retirement Community and moved to St. Teresa's Residence.
Wake services were held at 4:30 p.m. on June 10, 2008 at St. Teresa's, and at 7:30 p.m. in Queen of Apostles Chapel at Maryknoll Center where Father Francis McGoum officiated and Brother John Blazo read the biography. Mass of Christian Burial was concelebrated in Queen of Apostles Chapel on June 11, 2008 at 11:00 a.m. Father Michael Duggan was Principal Celebrant and homilist. Burial followed in Maryknoll Society Cemetery with Father John Sivalon conducting the graveside service.