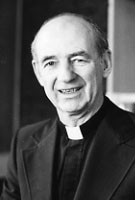 Father John L. Graser, MM
Born: December 30, 1919
Ordained: June 15, 1947
Died: November 15, 1992
Father John Leo Graser died Sunday afternoon, November 15, 1992, in the Health Science Center in Syracuse, New York, of severe injuries sustained in an automobile accident. He was 73 years of age and a Maryknoll priest for 45 years.
John Leo was born on December 30, 1919, son of Thomas and Margaret Graser. He grew up with two brothers and three sisters in their splendid Catholic family. He graduated from St. Patrick's Grade and High School in June, 1937. He worked for one year after graduation from high school as Custodian of St. Patrick's Parish Men's Club and a Helper at the Catholic Youth Camp. He then studied Liberal Arts at Niagara University in Buffalo, New York for two years. There his desire to be a missionary developed and he entered Maryknoll Apostolic College (Venard), Clarks Summit, Pennsylvania, on September 7, 1940. At the Venard, because of his sharp, classy style of dressing, his classmates gave him the nickname of 'Sharpie' which stayed with him all his life. He was ordained a priest at Maryknoll Seminary in Ossining, New York, on June 15, 1947.
After ordination, Father 'Sharpie'Graser was assigned to the Maryknoll Mission in Kongmoon Diocese, South China. As a language student he served also as an Assistant Pastor of the Loting Mission for four years, almost two of which under Communist restrictions in the mission compound. He was intensely interrogated by the Communists about alleged infant mortality in the Loting Orphanage. In May 1951 he was arrested and jailed. On June 4, 1951 he was handcuffed and taken to Shiuhing by armed guards and expelled from China to Hong Kong on June 27, 1951.
After a short recuperation in Hong Kong Father Graser was assigned to the Maryknoll Mission in the Musoma Vicariate, Tanganyika, British East Africa. Upon his arrival in Musoma in December 1951 he was assigned to language studies and pastoral work in Nyegina. He studied Kikwaya and Kiswahili languages and was soon appointed Procurator for the Mission. After home furlough in April 1954, Father Graser was appointed Pastor of the Nyegina Mission in March 1955. His Superior wrote that Father Graser "is a very good missioner: a zealous, hard worker; a good organizer of mission policy. He is very thorough in getting to the bottom of problems. He is thrifty with mission money, but spends it well. He is considered too kind and too easy with the people studying
Catholic doctrine, yet not afraid to offer correction to his curates when he thought they needed it. He tries to be fair, objective and just.â"
During a home leave in September 1961, Father Graser took part in the Missioners' Workshop in December at Maryknoll, New York, and then engaged in Vocation talks in Catholic Schools for three months. He returned to Africa on March 27, 1962, and was appointed Pastor of the Majita Mission. He became fairly fluent in the spoken Kijita language and kept up his fluency in Kikwaya and Kiswahili languages. In 1968 he was appointed Procurator of the Language School in Musoma. While on home leave during August 1973 he took part in some updating and renewal studies. Thereafter on April 30, 1974 he was assigned Assistant Director of the Maryknoll Development House in Detroit, Michigan, and in June 1975 he was appointed Director and Local Superior of the Detroit Development House. Father Graser liked development work and enjoyed it as a challenge and as an integral missionary part of mission work. He was great in obtaining sponsors for Maryknoll. On July 1, 1978 he became the Director and Local Superior of the Buffalo Development House. After a service of six years in Development work, on September 1, 1984, Father Graser was assigned to the Maryknoll mission in Nairobi, Kenya, Africa. On September 9, 1985 he was recalled to the U.S. Region and appointed Administrator of the New York City Society House on 39th Street. Due to changes in the U. S. Regional policy, the 39th Street House was designated the Society/U.S.Regional House. Father Graser was again assigned to the Nairobi House in Kenya on October 15 1986.
At his own request Father Graser was enrolled in the Special Society Unit August 1, 1987 with retirement and residence at St Pius X Hall for retired clergy in Syracuse, New York. During his five years of retirement he kept very active, accepting on a moment's notice any Development Department dates, or helpout dates for diocesan priests. He was highly respected by the diocesan clergy.
Wake service was held in Syracuse Tuesday, November 17. Mass of Christian Burial was offered on Wednesday, November 18 in St. Patrick's Church, Syracuse. Office of the Dead was recited at Maryknoll Center Wednesday in Queen of Apostles Chapel at 7:30 p.m. On Thursday, November 19 at 11:00 a.m., Concelebrated Mass of Christian Burial was offered in Queen of Apostles Chapel. Interment took place at Maryknoll Center Cemetery.