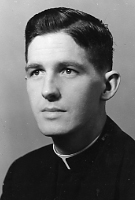 Father John L. Lavin, MM
Born: October 27, 1927
Ordained: June 12, 1954
Died: November 8, 1963
John L. Lavin, the oldest of ten children, was born on October 27, 1927 in Swoyerville, Pa. After his graduation from St. Mary's High School in Wilkes Barre, in 1945 he entered Maryknoll that same year. As we did not have enough room in our seminary at that time, he was sent to study at Loras College in Dubuque, Iowa, where he completed the first two years of college and then returned to Maryknoll for his Philosophy. On June 12, 1954 he was ordained and assigned to Japan.
After language study he was appointed as curate in Kyoto and in 1957 was transferred to Hokkaido. In August, 1960 he returned to the United States on furlough and did promotion work in New York City until June, 1961. Returning to Japan in July he was named pastor of the Shizunai parish in Hokkaido until he became ill. In May of 1963 he was hospitalized for medical treatment. After a month in the hospital he was released but remained out of work for several months. As he seemed to have recovered his health sufficiently to undertake pastoral work he was given a new post as assistant in the Kuwana Parish in Kyoto.
On November 9th, 1963 he died at the Rectory. The funeral and burial took place in Kyoto on November 11th.