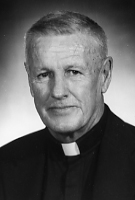 Father John M. Breen, MM
Born: August 5, 1923
Ordained: June 9, 1951
Died: April 29, 2005
Father John M. Breen died at St. Teresa's Residence, Maryknoll, New York on April 29, 2005. He was 81 years old and a Maryknoll priest for 53 years.
John Michael Breen was born in Fall River, Massachusetts on August 5, 1923, the only son of Michael Joseph Breen and Mary Cecilia Reddington. He attended the public grade and high schools in Fall River, MA. Although he attended school in Fall River, he spent five months of the year in Portsmouth, Rhode Island. Perhaps because of his proximity to the ocean during his formative years, he developed a lifelong love for all things nautical. He attended St. Charles College in Catonsville, Maryland, and entered Maryknoll on August 1, 1944 at Maryknoll, New York. He was ordained at Maryknoll Seminary, New York, June 9, 1951.
After ordination, Father Breen was assigned to the Maryknoll Mission Region of Guatemala, a most difficult and stressful area. He would serve most of his mission career in Guatemala and Honduras. He worked for 14 years with the Mayan Indians in the Cuchumatan Mountains of Huehuetenango, Guatemala. After that he was sent to open a new mission in San Salvador, El Salvador. In 1965 he was elected Chapter Delegate from the Guatemala Mission Region and attended the 1966 General Chapter at Maryknoll, New York.
On March 1, 1967, he was appointed Regional Superior for the Guatemala Mission Region. He was re-appointed for a second term on December 29, 1971 for the newly created Central America Mission Region. He also participated in the General Chapter in 1972.
After completing his term as Regional Superior, Father Breen spent eight years on the jungle rivers of El Peten, Guatemala (Rios Pasion, Usamanta, Salinas and Sta. Isabel he traveled over a total of 850 kms of the Usamacinta River). From his service in El Peten he was sent to start a new mission in Cuyamel, Honduras, where he worked for nine years. There are 43 villages there, 12 of which are in the Merendon Mountains. Much of his work there was devoted to the formation of lay leaders to serve the local Church. Father Breen was a strong presence in the area, and many of the churches that exist there today owe their strength to his hard work. During his years in this difficult apostolate, Father Breen earned the reputation of being an indefatigable worker.
On September 15, 1980 Father Breen was appointed 4th Regional Assistant for the Central American Mission Region.
On July 1, 1998, with his 75th birthday approaching, Father Breen retired with residence in the Central American Region. He continued to work there until January 1999 when he was reassigned to the United States Region, and on October 1, 1999, to the Retirement Community. He lived in Los Altos, California until June 12, 2003, when he moved to St. Teresa's Residence. Even then he continued to hope to return to Central America.
Fr. Breen was a born leader. He served in very difficult times as pastor and Regional Superior during the wars in Guatemala and El Salvador. He was an excellent missioner, opening many new missions, and was an inspiration to other Maryknollers. He put his own life on the line many times by confronting officials who were against Maryknoll and the Church.
Wake services were held at 4:30 p.m. on May 5, 2005 at St. Teresa's, with Father Paul Belliveau officiating, and at 7:30p.m. in Queen of Apostles Chapel at Maryknoll Center where Brother John Blazo officiated and Father Joseph McGahren read the biography Mass of Christian Burial was concelebrated in Queen of Apostles Chapel on May 6, 2005 at 11:00a.m. Father William Donnelly was Principal Celebrant and Father Charles Huegelmeyer homilist. Burial followed in Maryknoll Society Cemetery with Father Robert Lloyd conducting the graveside service.