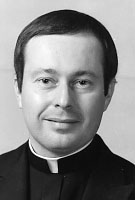 Father John M. Scott, MM
Born: October 18, 1942
Ordained: May 20, 1978
Died: April 26, 1990
Father John Michael Scott, died in Danbury Hospital on April 26, 1990. He was a Maryknoll priest for almost 12 years.
John was born in Natick, Massachusetts on October 18, 1942, son of Henry W. Scott and Kathleen Murphy. He attended grade school in Natick and high school in Norwalk. He served 4 years in the U.S. Coast Guard. In 1968 he was graduated from N.Y.U. with a major in History. For the following 4 years he taught History at Notre Dame High in Bridgeport, Ct. During that time he also completed work on his masters degree in Special Education at Fairfield University.
John entered Hingham in 1972. He wrote that he was committed to 3 goals, namely, priesthood, mission and Maryknoll. He wrote: "I think being a priest places us at a unique advantage in being able to help others and to serve as a channel of God's love and grace. Mission also puts at an advantage — in essence, our lives are a yes to the call of God to share with others the love and joy which Christ has given to us. Maryknoll, too, is unique — it makes me think that in the long run Maryknoll will give to me far more than I will ever be able to return." Such was his vocation.
Father Scott's Rector wrote of him: "He impressed me as a person seriously intent on living to the fullest his mission vocation. Quiet, unassuming, he seemed to be giving top priority to study, prayer and steady involvement in field education." He spent 2 years in Overseas Training in Mindanao and after language studies in the Cebuana dialect he was assigned to Our Lady of Perpetual Help Parish in Maco, Davo del Norte, where he taught high school students. He also established a Nutrition Education and Food Distribution Program for many needy children in the parish. On his return to the States he gained his Master of Divinity degree and was ordained at the Center on May 20, 1978.
After Ordination Father Scott was assigned to Pantukan, Davao del Norte, where he served for about 9 years, first as Assistant and then as Pastor of the parish. He wrote of the Filipino people whom he served: "The work is gratifying but ever more so are the human relationships. All that you may have heard about the warmth and friendliness of the Filipinos is no exaggeration. They are masters of 'interpersonal relationship'. I have made good friends here and it is this perhaps more than anything else that I most value."
Father Scott was a successful missioner. His Superior wrote that "John is the gentleman – courteous to a fault – with a good word for everyone. He tends to judge positively in every instance. He is bold and yet balanced in his actions. His apostolate is essentially sacramental but he sees his goal within – his parish as building up the small Christian Community groups."
In October of 1987, after recovering from an illness, he was assigned to the U.S. for work in the Vocations Office at Maryknoll Center, where he served over a year. He was reassigned at his own request to the Philippines in 1989 and appointed to work with the Mission Society of the Philippines in the training of their seminarians. While on a home visit in 1990 he fell ill.
Wake services were held at Honan Funeral Home, Main St., Newton, Ct. on April 28 and Sunday following. Mass of Christian Burial was at St. Rose Church, Newtown and burial in the family plot in Natick, Massachusetts.