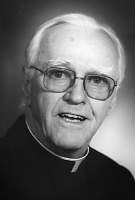 Father John P. Grady, MM
June 29, 1928
Ordained: June 11, 1955
Died: April 13, 2013
Father John P. Grady died on April 13, 2013 at St. Teresa's Residence. He was 84 years old and a Maryknoll priest for 57 years.
John Patrick Grady was born on June 29, 1928 in New York City, the son of Patrick and Mary Courtien Grady. He had two sisters, Theresa and Helen. He attended Incarnation Elementary School and Regis High School in New York City, and then entered Maryknoll in 1945. He earned his B.A. and M.R.E. degrees from Maryknoll School of Theology, Maryknoll, New York.
After his ordination on June 11, 1955, Father Grady was assigned to teach at Maryknoll's Junior Seminary (Venard) in Clarks Summit, Pennsylvania. In 1958 he was assigned to study at Catholic University of America where he received an M.A. in Classical Languages. He returned to teaching at the Venard until 1962 when he received his first mission assignment to Hawaii.
The following year Father Grady was transferred to the Philippines and after language study served in three parishes in three years. In 1967 he was appointed Rector of the newly-opened minor seminary for high school students in the Prelature of Tagum. In 1971 he left that post to work on the Prelature level as Vicar General while assisting with catechetical and social action apostolates.
Father Grady was chosen to be a delegate to the Society's Sixth General Chapter in 1972, after which he returned to the Philippines and to parish work. In 1974 he returned to the United States to serve as Director of the Office of Society Personnel. While in that position Father Grady attended Iona College, where he earned a degree in Pastoral Counseling. In 1978 he was asked to inaugurate a Spiritual Renewal Program for Maryknoll Fathers and Brothers.
Father Grady was assigned back to the Philippines in 1981, and after language review he returned to the Diocese of Tagum as an assistant pastor. In 1982 he was assigned to work as Spiritual Director of the Philippine Lay Mission Program, and continued in that position for the next nine years. He considered his years with these dedicated lay people to be the high point of his missionary work. The program has since been taken over by the members, and the name changed to Philippine Catholic Lay Mission. In 1983, while working with the Philippine Lay Mission Program, Father Grady was appointed Second Assistant to the Regional Superior of the Philippines. He returned to the Diocese of Tagum in 1991 to serve as assistant pastor at the Cathedral Parish.
In August 1996 Father Grady became a member of the Hong Kong Region and worked in China, teaching English, until his return to the United States in 2003. He joined the Retirement Community in March 2004, and resided at Maryknoll Society Center until he moved to St. Teresa's Residence in July 2005.
Wake services were held at 4:30 p.m. on April 18, 2013 at St. Teresa's, and at 7:30 p.m. in Queen of Apostles Chapel at Maryknoll Center where Father Ralph Kroes officiated and Brother Kevin Dargan read the biography. Mass of Christian Burial was concelebrated in Queen of Apostles Chapel on April 19, 2013 at 11:00 a.m. Father James Gilligan was Principal Celebrant and homilist. Burial followed in Maryknoll Society Cemetery with Father Edward McGovern conducting the graveside service.