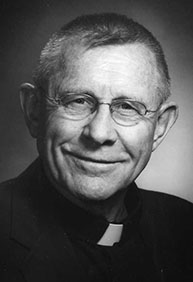 Father John P. Hudert, MM
Born: February 27, 1934
Ordained: June 9, 1962
Died: April 16, 2020
Father John P. Hudert, M.M. died on April 16, 2020 at the Paramount at Somers Rehabilitation and Nursing Center in Somers, New York. He was 86 years old and a Maryknoll priest for 57 years.
John Patrick Hudert was born in Pompton Lakes, New Jersey, on February 27, 1934, son of John D. and Julia Coffey Hudert. He was the eldest of six children. He attended Our Lady of the Lake Grammar School in Verona, New Jersey, and in 1946 the family moved to Nome, Alaska where he attended Nome public schools. After five years the family moved to Juneau, and he graduated from Juneau High School in 1952. After attending the University of Detroit Jesuit College for one year he entered Maryknoll in September 1953 at Maryknoll Junior Seminary (Venard), Clarks Summit, Pennsylvania. He was ordained a Maryknoll priest on June 9, 1962 at Maryknoll, New York.
After ordination Father Hudert was assigned to Tanganyika, (now Tanzania) East Africa. Upon completion of language studies, he was assigned to work with the Niolotic Luo tribe located along the northwestern shore of Lake Victoria, and he lived at the Luo Parish of Tatwe with three other Maryknollers. After nine months of language study, he learned Luo and became an Assistant of Tatwe Parish in June of 1963. In June of 1965 he was assigned to the Luo parish of Muhoji to replace Father Joseph Corso. This was the center of operation for all the Luo tribe in the south Mara area. The assignment was to continue to work with all the Luos in the existing Bantu-speaking parishes. This he did from Muhoji until 1969. Due to the shortage of priests, Muhoji became a sub-parish of the large town Parish of Bunda. Bunda Parish was an experimental parish using a team approach. The other team members knew Kiswahili, and, as Father Hudert did not, he went to language school, which now existed in Musoma town, to study Kiswahili for 4 intense months. When the two other team members moved on, he remained at Bunda with responsibility for 60,000 people and a community development project. Fortunately there was a strong parish council, 5 trained catechists and some 20 assistant catechists to share the responsibility, as well as a vibrant Christian community. In August of 1974 Father Hudert received an assignment to the United States to the promotion house in Denver, Colorado. After two years there, he assisted Father Walter Kelleher in the Seattle, Washington promotion house. After taking the Mission Renewal Program at Maryknoll, New York, Father returned to Tanzania in August 1978.
After a Kiswahili refresher course, he was assigned back to work in Luo County, as he was one of the few remaining Maryknollers who knew the Luo language. He resided in Ingri Parish which also covered Tatwe where he had first studied the Luo language. This afforded him the opportunity to use both languages and help in the transition to use Kiswahili as the national language of Tanzania. Father Hudert continued as Pastor of Tatwe Parish until August of 1991. Father Hudert had then completed a quarter of a century in Tanzania. He had come full circle, beginning at Tatwe Parish as a newly ordained language student in August 1962 and leaving Tatwe as Pastor in August, 1991.
Father Hudert returned to the United States and, after the Spiritual Renewal Program in Palestine, he was asked to help out at Mission St. Teresa's Residence, Maryknoll's retirement residence for these months. However, when several staff members took sick in 1994, Father requested to be assigned there. He remained on the staff at St. Teresa's where he was in service to the care of the Maryknollers there.
In October, 2005 Father Hudert officially retired, but between April and November, he spent a great deal of time on a tractor as Director of Pachamama Farm at Maryknoll, New York. Together with Father Fern Gosselin, M.M., they began their project with old farm equipment that they found from the '50s and '60s. With the help of many volunteers, bumper crops of fresh, organic fruit and vegetables were grown and harvested. This bounty was shared with the local food pantries for distribution throughout the community.
In 2017 Father Hudert was appointed to the Pastoral Visitors Team at Mission St. Teresa's and was assigned to the Senior Missioner Community.
Reflecting on his Mission years, Father Hudert said, "Whether I'm sitting on my tractor or planting seeds, I can't help feel the power of nature. Like my mission years in Tanzania, I want to do things that have meaning for others. Today I live the mission spirit in a new way: by caring for the earth and sharing God's bounty with those in need."
A Mass of Christian Burial was celebrated in Queen of Apostles Chapel on April 21, 2020 at 11:15 a.m. Father Francis Breen was Celebrant and homilist; Brother Brendan Corkery was the reader of the scripture and the Oath. The biography was read by Fr. Michael Snyder. According to Father Hudert's wishes, he was cremated and his cremains were placed in the Columbarium at Maryknoll, New York.