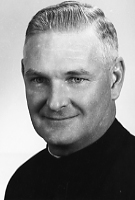 Father John P. Lomasney, MM
Born: March 19, 1917
Ordained: February 7, 1943
Died: August 13, 2009
Rev. John P. Lomasney died on August 13, 2009 at St. Teresa's Residence, Maryknoll, New York. He was 92 years old and a Maryknoll priest for 66 years.
John Patrick Lomasney was born on March 19, 1917 in Roslindale, Massachusetts, son of Robert J. and Catherine Kehoe Lomasney. He had two brothers and two sisters. John attended Francis Parkman Grammar School and graduated from Mission High School in Roxbury in June 1934. He studied for one year at Boston College before entering Maryknoll Apostolic College (Venard), Clarks Summit, Pennsylvania on September 7, 1935. He was ordained a priest at Maryknoll Seminary in New York on February 7, 1943.
After ordination, Father Lomasney was assigned to the new Maryknoll Mission in Quintana Roo, Mexico. After Spanish language and cultural studies in Merida, he was appointed Assistant Pastor in San Miguel Parish in Cozumel. In September of 1944 he was appointed Pastor of a very poor and isolated parish with five out-stations among Mayan people in Tzucacab, Yucatan. In 1951 he was appointed Pastor of San Miguel Parish in Cozumel.
While on home furlough in July 1952, Father Lomasney did some promotion work in Brookline, Massachusetts. In November 1953 he was assigned to the Maryknoll Center in New York where he worked for one year in the Development Department and then as the Procurator for three years. He returned to Yucatan in September 1957 and became Pastor of Santa Clara Parish in Dzidzantiin. In 1959 he was appointed Pastor of San Sebastian Parish in Merida. After seven years, he was transferred to Asuncion Parish in Peto with mostly Mayan people as parishioners. In 1969 he returned as Pastor to San Francisco Javier Parish in Tzucacab, Yucatan.
On January 1, 1978 Father Lomasney was appointed Regional Superior for the Mexico Region. He participated in the General Chapter at Maryknoll, New York. He was reappointed Regional Superior on October 1, 1980, and at the end of his term of office in 1983, returned to parochial work in Yucatan. On November 27, 1989 he was elected Delegate from the Mexico Region and participated in Maryknoll's Ninth General Chapter in October 1990. He was appointed Second Regional Assistant for the Mexico Region in October 1995. Father Lomasney served as Financial Assistant of the Mexico Region, and was in charge of the Merida Society House while assisting in San Sebastian Parish. Father Lomasney returned to the United States in June 2003 and took up residence at St. Teresa's. In March 2004, he was assigned to the Retirement Community.
Wake services were held at 4:30 p.m. on August 17, 2009 at St. Teresa's and at 7:30 p.m. in Queen of Apostles Chapel at Maryknoll Center where Father Martin Keegan officiated and Brother Andrew Marsolek read the biography. Mass of Christian Burial was concelebrated in Queen of Apostles Chapel on August 18, 2009 at 11:00 a.m. Father Kevin Hanlon was Principal Celebrant and Father Robert Lloyd, homilist. Burial followed in Maryknoll Society Cemetery with Father Paul Masson conducting the graveside service.