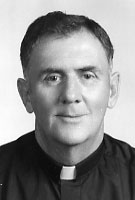 Father John P. McKernan, MM
Born: June 12, 1924
Ordained: June 14, 1952
Died: December 14, 2007
Father John P. McKernan died on December 14, 2007 at St. Teresa's Residence, Maryknoll, New York. He was 83 years old and a priest for 55 years.
John Paul McKernan, the third child among five boys, was born on June 12, 1924, in Lawrence, Massachusetts, son of Frank and Mary McAleer McKernan. He attended St. Patrick's Parochial School, run by the Sisters of Charity of Halifax, Nova Scotia, Canada, Central Catholic High School for two years and graduated from Lawrence High School in June of 1942. He entered Maryknoll Apostolic College, (Venard), Clarks Summit, Pennsylvania, on June 29, 1943. He completed his seminary studies and formation at Maryknoll Seminary in Ossining, New York, received his Bachelor of Arts degree in Philosophy and was ordained a priest on June 14, 1952.
Shortly after ordination, Father McKernan was assigned to the Maryknoll Mission Region in Central Taiwan, Republic of China, and served for more than 50 years. He was the first newly ordained Maryknoll priest sent to China since the Communists closed the door to missioners five years previously. After Taiwanese language and cultural study in Changhua, he was appointed assistant pastor of the Nan Tao Mission and served there for five years. In November of 1957 he was appointed pastor of the Erh Lin parish, a mission on the coast of the Formosa Straits.
Father McKernan found mission work in Taiwan very exciting and rewarding. In the early days, Maryknoll Missioners founded many parishes in areas where there were no Catholics. Very soon people came from the surrounding villages to the small storefront doctrine halls. Today these parishes are well-established Christian communities, some with native priests and nuns, all trained by Maryknoll in the Region.
In May of 1960, he was appointed pastor of the Pro-Cathedral Parish in Taichung City and studied a second Chinese dialect, Mandarin. During these years he was a Consultor to the Maryknoll Regional Superior. After home leave in March 1965, he returned to Taiwan and became pastor of the Ts'au Tun mission and then pastor of the Catholic Mission in Chushan, Nantou County, Taiwan.
Father McKernan remained living and working in Taichung, Taiwan until September 2003, when he returned to the United States and took up residence at Maryknoll, New York. He was assigned to the Retirement Community in December 2003, and in September 2005, he moved to St. Teresa's. On the occasion of his 50th Jubilee, he said: "It has been a continual blessing for me to be here, to serve the church. I am deeply grateful to my family, Maryknoll Society and my many friends and supporters for it all."
Wake services were held at 4:30 p.m. on December 19, 2007 at St. Teresa's, and at 7:30p.m. in Queen of Apostles Chapel at Maryknoll Center where Father Daniel Dolan officiated and Father Robert Vujs read the biography. Mass of Christian Burial was concelebrated in Queen of Apostles Chapel on December 20, 2007 at 11:00 a.m. Father John Moran was Principal Celebrant and homilist. Burial followed in Maryknoll Society Cemetery with Father John Barth conducting the graveside service.