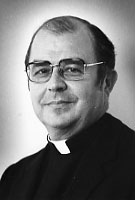 Father John P. Meehan, MM
Born: May 11, 1932
Ordained: June 13, 1959
Died: October 15, 1998
Father John Patrick Meehan died on Thursday afternoon, October 15, 1998 at Yanji Hospital in Yanji, China. He was 66 years old and a Maryknoll priest for 39 years. He is the first Maryknoller to die and be buried in Chinese soil since Francis Xavier Ford in 1952.
John was born on May 11, 1932 in Toledo, Ohio, the son of Eugene and Agnes Herman Meehan. He has a brother, William, and also had a sister who died at an early age. John attended Rosary Cathedral grammar school and Central Catholic high school, both in Toledo. His interest in Maryknoll was sparked in the 6th grade when he read "When the Sorghum Was High." He entered Glen Ellyn in September 1950 and was ordained on June 13, 1959.
After ordination, Father Meehan was assigned to special studies and in March 1961 was assigned to the Maryknoll Junior Seminary in Chesterfield, Missouri. While serving on the faculty, Father Meehan obtain an MS. in Physics-Math from the University of Detroit in 1964 and obtained a Ph.D. in Education from Saint Louis University in 1968. On July 1, 1967, Father Meehan was assigned to the Center as Assistant Director of Education and appointed Director in July 1969. Father Meehan's first mission assignment came on July 1, 1971 when he was assigned to the Korea Region. He served as pastor of Hwang Kan in ChungChong Pukdo from 1974 to April 1976 when he returned to the United States and Maryknoll, New York to serve as President of the Seminary and Director of Education. In 1979, when he was due to return overseas, Father Meehan extended his appointment to assist in the restructuring of the Education/Formation Program. After two months, in September 1979, he was assigned to the Office of Society Personnel until September 1980 when he returned to Korea. In his Korea appointment letter to Father Meehan, the Superior General, Father James Noonan wrote: "When I think of you, I remember a quotation from James Anthony Walsh, 'It does not make any difference who does the work, as long as it gets done.' In so many ways, John, I have seen… how you also exemplify this ideal Maryknoll spirit. But more especially, how you exemplify community spirit and thoughtfulness in the many gifts, blessings and graces that you have shared with us."
Upon his return to Korea, he served as a member of the Song Nam community and in 1983 was appointed Third Assistant to the Regional Superior and was a delegate from Korea at the 1984 Chapter. He was appointed First Assistant in 1986. Father Meehan also served as Research and Planning Coordinator for the Korea Region.
On August 1, 1990, Father Meehan was again assigned to the United States to work on the Lay Missioners' Service Team. During this time, he also served as Interim Consultant of the Maryknoll Center for Mission Studies from January – July 1992. Father Meehan was assigned back to the Korea Region July 1, 1993 and began to serve with the special Regional unit in Northern China. At the time of his death he was teaching English at Yanbian University and assisting the local pastor in the cities of Tumen and WangChing. In a recent Maryknoll magazine article, Father Meehan wrote about his work in China: "I don't think anyone can have a better life than we have here. We have a great sense of God's presence, we have a people who have suffered immensely over the years but who have stuck to it and are still with the Church. Just to be with them is beautiful."
Shortly after his death, his body was taken to the Cathedral Church in Yanji and prepared for viewing. His body remained there until after the funeral Mass, which was celebrated on Saturday, October 17, at nine a.m. Father Abraham Ohm, pastor of Yanji parish, was principle celebrant of the Mass. He was assisted by Father Han Mm Chang, administrator of the Jilin Diocese, and Father Hung Wei Wang, pastor of Dunwha Parish in Yanbian Prefecture. Ten other priests were on the altar as concelebrants. These included five Maryknollers (Henry Beninati, Dick Rolewicz, Ed Whelan, Peter Barry, and Tom Egan), two Salesians from the Yanji Technical School, a Benedictine Father, and two Jilin Diocesan priests. At the conclusion of the Mass during the blessing of John's body, one of the students from John's composition class at Yanbian University read an English poem she had composed as a tribute to him. Maryknollers and other close friends accompanied John's body to the Yanji crematorium. Inside the crematorium there was a short prayer. The graveside burial prayers at PalDo were led by Father Abraham Ohm.
There was a Memorial Mass on November 18, 1998 at 11:00 a.m. held at Maryknoll, New York.