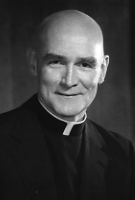 Father John R. Heisse, MM
Born: December 18, 1919
Ordained: May 1, 1943
Died: March 9, 2000
Father John Heisse died of congestive heart failure at the Maryknoll House at 3600 South Seeley Avenue, Chicago, Illinois. Father had been watching the college basketball playoffs on the evening of March 9th. He was 80 years old and a Chicago Archdiocesan priest for 10 years and a Maryknoll priest for almost 47 years.
John Ryan Heisse was born in Chicago, Illinois, on December 18, 1919, son of Frank Edwin and Mary Ryan Heisse. He was the youngest of three boys in the family. He attended St. Barnabas Parochial School and as a seminarian for the Archdiocese of Chicago he studied at Quigley Preparatory Seminary and St. Mary of the Lake Major Seminary, Mundelein, Illinois. He received his Bachelor of Arts degree in Philosophy and Master of Arts degree in Theology. He was ordained a priest for the Archdiocese of Chicago on May 1, 1943.
After ordination, Father Heisse served for 3 years as assistant pastor of St. William's Parish; and then for 7 years as assistant pastor of the Mission of Our Lady of Mercy–a Home for dependent boys of high school age.
With permission of Cardinal Samuel Stritch, Archbishop of Chicago, he entered the Maryknoll Society and began his Novitiate at Bedford, Massachusetts on September 1, 1953. After pronouncing his First Oath of Obedience in 1954 he was assigned to the Maryknoll mission in Korea. Prior to leaving for Korea on July 21, 1955, he studied Korean language and culture for one year at the Institute for Far Eastern Languages at Yale University in New Haven, Connecticut.
After arrival in Korea in August 1955, he served first as an assistant pastor of the Che Chon Mission. One year later he was named founding pastor of the Tan Yang Mission. In May of 1961 he was appointed Director of the Catholic Committee of Korea in Seoul, the Secretariate for the Conference of Korean Bishops. As Director he was, ex officio, publisher and editor of Town and Country Magazine, the National Catholic Magazine of Korea, and was also involved in developing other forms of communication for the Church in South Korea. He was largely responsible for establishing a new office and residence for the Committee.
In 1967, at his own request, Father Heisse resigned as Director of the CCK so that a Korean priest could be appointed to the post. After a short period as Administrator of the Chang Ho Won parish in the Chong Ju Diocese, he returned to the CCK at the request of his successor and served as Deputy Director until 1974. During the period from 1961-1974, Father Heisse also served as Executive Secretary of the Conference of Major Superiors of Men in Korea and was active in Cursillo work with Catholic Chaplains of the United States Armed Forces in Korea.
On September 1, 1974, Father Heisse was called home to serve for 7 years in the Maryknoll Development Department. He was appointed Director and Local Superior of the Chicago Development House on July 1, 1975. He was reassigned to Korea on September 1, 1981. He returned to Korea and took up pastoral work. On May 24, 1988, Father Heisse was again recalled to the United States and assigned to the Development Department in the Chicago area. Although Father Heisse officially retired from the Development Department on January 1, 1993, he remained a very active missionary until his death, while residing at the Chicago Development House. He continued to collaborate with the Development Department, be an excellent ambassador of Maryknoll to the clergy and Church of the Chicago Diocese, assist the local parish with liturgical celebrations, make weekly recordings for the deaf, and at times provide chaplaincy service for a local group of the 'Cursillo' Movement. In 1954, Father Heisse began a monthly report to the 'Stockholders' (people who were his supporters). Sometime in 1993, while he was in Chicago, he wrote his last 'Stockholder Report' to be mailed at the time of his death. An excerpt from this letter is as follows: "This much I can say with certainty… I am happier now by light years than I have ever been during a very happy lifetime."
Wake services were held on March 14, 2000 at Wollschlager Funeral Home, 3604 5. Hoyne, Chicago, IL 60609, 2:00 pm to 9:00 pm. where Father Raymond Sullivan, MM officiated. Mass of Christian Burial was concelebrated at St. Maurice Church, So. Seeley Ave., Chicago, IL 60609 on March 15, 2000 at 10:00 a.m. Bishop Timothy Lyne, Auxiliary Bishop of the Archdiocese of Chicago, was Principal Celebrant and Father Heisse's long-time friend, Rev. William Murphy, was homilist. Burial followed at St. Mary's Cemetery in Chicago, with services conducted by Father Thomas Henehan, MM. A memorial Mass was held on March 22, 2000 at Queen of Apostles Chapel at 11:00 a.m. Father James Sinnott was Principal Celebrant and Father Raymond Sullivan homilist.