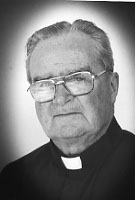 Father John R. McGuire, MM
Born: January 27, 1915
Ordained: February 7, 1943
Died: December 26, 2001
Father John R. McGuire, M.M. died on December 26, 2001 at St. Teresa's Residence. He was 86 years old and a Maryknoll priest for 58 years.
John was born on January 27, 1915, in Childs, Pennsylvania, son of John and Mary Bennett McGuire. He had one brother and five sisters. He attended Childs Grammar School and one year at Holy Rosary High School in Scranton, Pennsylvania. John entered second year of high school at Maryknoll Apostolic College (Venard), Clarks Summit, Pennsylvania on September 7, 1931. He was ordained a priest at Maryknoll Seminary in New York on February 7, 1943.
After ordination, Father McGuire was assigned to the new Maryknoll Mission in Mexico, where he served his entire missionary career of 58 years. Upon completion of Spanish language and cultural studies in Merida he was appointed Pastor of Carrillo Puerto parish in Quintana Roo in 1944. He studied the Mayan language in order to better serve his parishioners. In 1949 he was transferred to Asuncion Parish in Peto, Yucatan. After a home furlough in 1951 he served as Assistant Pastor in Tzucacab for a short time and then he became Pastor of San Miguel Parish in Cozumel, Quintana Roo.
On December 1, 1953 Father McGuire was appointed Second Consultor to the Middle America Society Superior and in March 1, 1955 he was appointed First Consultor. In 1967 he was appointed Pastor of Santa Clara Parish in Dzidzantun, Yucatan. In 1969 he became Pastor of Maria Madre de Ia Iglesia in Unidad I, Mexico City. He served there for 16 years as Pastor; and 9 years as Dean of the Fourth Vicariate, as well as Spiritual Director of the Convivencia movement for men and women. In January of 1983 he participated in the three-month Maryknoll Spiritual Renewal Program in Jerusalem, Israel.
In October 1984, Father McGuire participated as the elected Delegate to the Eighth Maryknoll General Chapter for the Mexico Region. After the Chapter he returned to his parish in Unidad I, Mexico City. Father McGuire was formally enrolled in the Special Society Unit on April 1, 1988 with residence and limited ministry in Mexico City. In 1991 he moved to Cuemavaca, Mexico where he continued in limited parish ministry until his arrival at St. Teresa's in November 2001.
Wake services were held at 4:30 p.m. on Friday, December 28, 2001, at St. Teresa's, and at 7:30 p.m. at Our Lady Queen of Apostles Chapel at Maryknoll Center where Father Richard Fries officiated. The reader of the biography was Brother Donald Miriani. The Mass of the Resurrection was concelebrated at Queen of Apostles Chapel on Saturday, December 29, 2001, at 11:00 a.m. Father Stephen Wood was Principal Celebrant and Father Edward Walek homilist. Father McGuire's remains were cremated, and his ashes will be buried in Cuemavaca, Mexico.