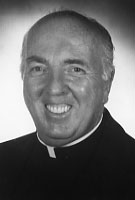 Father John T. Quinn, MM
Born: August 12, 1929
Ordained: May 22, 1971
Died: July 8, 1995
Father John T. Quinn died in his room at Maryknoll, New York, in the early morning of Saturday, July 8, 1995. He was 65 years old and a Maryknoll priest for 24 years.
John Thomas Quinn was born on August 12, 1929, in Mahanoy City, Pennsylvania, son of Joseph F. Quinn and Margaret A. Post. He has two older brothers, Joseph and Charles. He attended St. Fidelis Parochial School and graduated from Mahanoy City High School in June 1947. He worked in a shirt factory for one year and then served on active duty in the U.S. Navy as a diesel engineer aboard the U.S.S. Wyandott. He was honorably discharged as Engineer 3rd Class on September 9, 1952. He graduated from Wharton School of Business, University of Pennsylvania, with a Bachelor of Science degree in Economics. Jack worked for the Social Security Agency for six years. He applied for and was accepted for the Baltimore Archdiocese in 1965, but because of his interest in foreign missions and after counseling by others, he entered Maryknoll at age 36 on September 9, 1965. He spent one year of studies at Maryknoll College, Glen Ellyn, Illinois. He then moved on to Maryknoll Seminary, Ossining, New York, where he completed his studies and received his Bachelor of Divinity degree in June 1970 and his Master of Religious Education in May 1971. John Thomas Quinn was ordained a priest at Maryknoll Seminary on May 22, 1971.
After Ordination, Father Quinn was assigned to the Africa Region and served in Tanzania, East Africa. As an older man, he had a mature and realistic picture of his vocation, a strong faith, and deep desire to serve people in missionary work. He was generous and hardworking, struggled with the African language, and developed a keen sensitivity toward the people among whom he worked. He served in several mission parishes in Musoma Diocese. In 1979, Father spent some time in the United States on vacation.
Upon his return to Africa in August, 1980, Father Quinn was assigned to the Maryknoll Mission Region in Kenya and appointed Spiritual Director at the Apostles of Jesus Seminary in Langata, Nairobi. The Apostles of Jesus is the East African Mission Society. He enjoyed teaching and counseling the seminarians and they liked him. His own spirit, enthusiasm and interest in them was a wholesome influence in the students' lives. At that time he wrote: I see my present role as the perfect way to extend myself in mission, i.e., helping the African Church become missionary.
Two years later, he was sent to the Sudan where he did special vocation and formation work for two years. In 1984, he was transferred back to Kenya and assigned as Assistant Pastor of the Jericho Catholic Church in Nairobi.
On September 18, 1985, Father Quinn was recalled to the United States Region and assigned to the Development Department. After two years of Development work, he was assigned to the new Maryknoll Vocations Office for vocation work in the Western United States. On September 1,1988, Father Quinn returned to the Kenya Region. He was assigned to assist Father John Marengoni, MCCJ, Founder of the Apostles of Jesus, with the task of founding a new Congregation, the Contemplative Evangelizers, at Rongai in Nakuru Diocese. He taught several classes and was spiritual director. In December 1990, Fr. Quinn returned to Nairobi, and in early 1991, he took on the task of establishing a new parish in the Buru Buru section of Nairobi. With the architectural help of his close friend, Brother John Walsh, he built what is one of the most beautiful churches in Nairobi. But more than the building, he helped to establish a very active and living Christian community.
In 1991, Father Quinn's health began to decline, and he returned to the United States for medical treatment. During the recuperation period at St. Teresa's Residence, he enthusiastically planned to return to Kenya. His prayers were answered and he returned to Nairobi on May 18, 1994.
For the next six months, Father Quinn continued his pastoral work at Holy Trinity Parish in Buru Buru. His physical condition got progressively worse, and in December 1994, he resigned as Pastor and was replaced by a Kenyan diocesan priest. He spent his last Christmas in his beloved Africa at the Maryknoll House in Nairobi and then returned to Maryknoll, New York.
Father Quinn's courageous, smiling presence at the Center was an inspiration to all. He resided at the Seminary building and took an active part in all community functions right up to the last day. On the evening of July 7th, he made the First Friday Holy Hour in the Lady Chapel. During the night, the Lord called him to receive the reward of the Good and Faithful Servant.
A Wake Services were held on Wednesday, July 12, 1995 at St. Teresa's Residence Chapel at 7:00 p.m. and at 7:30 p.m. at Our Lady Queen of Apostles Chapel at Maryknoll Center, New York. Mass of Christian Burial was concelebrated the following day, Thursday, July 13th, at 11:30 a.m. in Our Lady Queen of Apostles Chapel. The Principal Celebrant was Father George Egan, and the homily was given by Father Thomas Keefe. Interment followed at Maryknoll Cemetery, where Father Edward Hayes officiated at the graveside service.