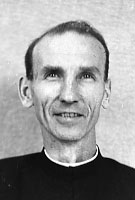 Father John W. Teat, MM
Born: June 15, 1910
Ordained: June 11, 1939
Died: June 22, 1967
John W. Teat was born on June 15, 1910 in Shanghai, China where his Father, a British officer, was serving at the time. When he was four years old his family came to the United States and settled in Philadelphia where John attended school. In 1927 he began studies for the priesthood at St. Charles Seminary in Overbrook, Pa. After completing Philosophy and one and a half years of Theology, he left the seminary and enrolled at St. Joseph's College where he received his B.A. degree in June of 1933.
He entered Maryknoll in October of 1934 and was ordained on June 11, 1939. Assigned to the Wuchow mission, he labored until 1945 when he had to return to the United States to take care of health concerns. He was sent to Monrovia in 1945 and remained there until 1953 when he took up residence at Mountain View. In May of 1956 he was appointed as Director of the Brothers there and in 1958 as Vice-Rector of the seminary.
In 1967 he had entered the hospital for medical treatment, and when his condition grew worse he was anointed. Shortly thereafter he died, on June 22, 1967 at the O'Connor Hospital in San Jose.
The funeral and burial were at Mountain View on June 24.