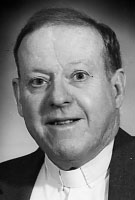 Father Joseph A. Farrell, MM
Born: October 10, 1930
Ordained: June 13, 1959
Died: October 3, 2004
Father Joseph Farrell died on October 3, 2004 at St. Teresa's Residence, Maryknoll, New York following a long illness. He was 73 years old and a Maryknoll priest for 45 years.
Joseph Augustus Farrell was born in Boston, Massachusetts on October 10, 1930 to Joseph and Helen Kelley Farrell. He attended Collicot Grammar School and Cunningham Junior High in Milton, his hometown. He graduated from Father Matignon High School, named after the first Diocesan priest in the Archdiocese of Boston, on June 13, 1949. In high school he was known as 'Hands' Farrell because he never missed a ground ball as shortstop. After graduation he went to summer camp for tryouts with the Boston Braves, and also tried out with the Detroit Tigers. In June 1950, he entered Maryknoll at Lakewood, New Jersey and was ordained with 56 other classmates at Maryknoll, New York on June 13, 1959.
After ordination, Father Farrell was assigned to Puno, Peru where he worked in St. John's Parish and San Ambrosio Seminary as sports director. He was also in charge of liturgy and ceremonies. After four years at St. John's, he was assigned to Our Lady of the Assumption Parish in Azangaro, Puno, for a four-year period. In 1968 he was offered the opportunity to join an experimental parish, Child Jesus, in the section of Lima known as City of God, with two other Maryknoll priests and four Maryknoll sisters, where he worked especially with the parish council, youth, a couples reflection group and the formation of catechists.
In January of 1974 Father Farrell received a new assignment to Our Lady of Pilar Parish in Arequipa,which was eventually turned over to the Archdiocese of Arequipa. While there he also worked with the Christian Family Movement, and in the formation of small Christian communities. In 1978, Father Farrell returned to the United States for a renewal program and was afterwards assigned to the Chestnut Hill Development Office in Massachusetts where he remained for almost five years.
In January 1983, Father Farrell was re-assigned to Peru and returned to Arequipa to live in the parish of Our Lady of Sorrows, where he dedicated most of his time to the formation of lay leaders in the Archdiocese of Arequipa. In 1985, with Father Philip Erbland, M.M., he founded a pastoral formation center for training lay leaders. Father Farrell was appointed Third Assistant to the Regional Superior of Peru in October 1986, for a three-year term. In 1994, Father Farrell began work in Tacna, Peru and was formally retired on January 1, 1998. He continued his work there accompanying the local AA movement, as well as serving as a member of a team of priests, a Maryknoll sister and lay people in charge of formation courses for laity in the Diocese of Tacna, until 2000.
Father Farrell was always outgoing and friendly, endearing himself with the local people and his fellow missioners but he also had the unique gift and ministry of going out of his way to work with and personally support the local diocesan clergy wherever he was assigned. They very much appreciated that support.
In early 2000, Father Farrell returned to the United States, residing in the Boston area and in July was assigned to the Retirement Community. He moved to St. Teresa's in February 2001.
At the time of his 40th Jubilee celebration, Father said: "I am filled with gratitude and appreciation for my vocation to mission and Maryknoll, and there is no doubt that the roots of my missionary vocation began with my family, especially my mother, Helen, who taught me to think of others first. Also the priests and sisters of my parish, St. Agatha's and of my high school, Matignon, along with many Maryknollers over the years. Also I would like to offer a special word of thanks to the Peruvian people."
Wake services were held at 4:30 p.m. on October 6, 2004 at St. Teresa's, with Father Paul Belliveau officiating, and at 7:30 p.m. in Queen of Apostles Chapel at Maryknoll Center where Father Joseph Arsenault officiated and Father John Ganly read the biography. Mass of Christian Burial was concelebrated in Queen of Apostles Chapel on October 7, 2004 at 11:00 a.m. Father Wayman Deasy was Principal Celebrant and Father Patrick Bergin homilist. Burial followed in Maryknoll Society Cemetery with Father John Sivalon conducting the graveside service.