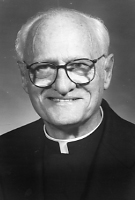 Father Joseph A. Hahn, MM
Born: October 8, 1912
Ordained: June 21, 1942
Died: October 16, 1993
Father Joseph A. Hahn died at 3:45 P.M., October 16, 1993, at Sloan Kettering Hospital in New York City, after a struggling with a long term illness. He was 81 years of age and a Maryknoll priest for 51 years.
Joseph Augustus was born on October 8, 1912, in Brooklyn, New York, son of Joseph A. and Agnes Fischer Hahn. He had two brothers and three sisters.
Father Hahn had an extensive educational background and a wide and varied life experience. His early schooling took place at St. Thomas Apostle Parochial School in Woodhaven, Long Island, and a year and a half at the LaSalle Academy in Oriskany, near Utica, New York. He had thoughts of the priesthood and foreign mission work, so he entered Maryknoll Apostolic College (Venard), Clarks Summit, Pennsylvania, in the second year of high school in September of 1926. After two years, he left Maryknoll and later graduated from Seton Hall Prep High School in South Orange, New Jersey, in June of 1929.
At this time in his life he wanted to be an aeronautical engineer. He spent three years at Vilanova University, Villanova, Pennsylvania, studying mechanical engineering and then transferred to the Massachusetts Institute of Technology, Cambridge, Massachusetts. He began again thinking of the priesthood. He graduated from Massachusetts Institute of Technology with a Bachelor of Science degree in aeronautical engineering in June of 1934. He received a six months Research Fellowship in Meteorology at the Daniel Guggenhiem Institute, Airship Institute, Akron, Ohio. As part of his studies he designed a cargo airplane for a Canadian Company which later was built and used in Canada.
While at the Airship Institute his inclination toward the missionary priesthood clarified and he made his final decision. He attributes his vocation to the prayers of his younger sister, Susan, who became Sister Agnes Ann of the Sisters of Christian Charity Community (S.C.C.). He later wrote that "it was God's Providence that I should not work as a secular scientist, but that I should use my skills wherever they were needed." By June of 1935, he decided to apply a second time to Maryknoll. After seven years absence he returned to the Venard in September of 1935 where he studied philosophy for two years. He completed his theological studies at Maryknoll Seminary, Ossining, New York and was ordained a priest at Maryknoll on June 21, 1942.
After ordination, his first assignment was to teach science and mechanics at the Venard for three years. While at the Venard, besides teaching, he engaged in part time parochial ministry and with his pleasant personality enjoyed his social life, especially as a avid bridge player. In June of 1945 he was assigned to the Maryknoll Mission in the Pando Vicariate in Bolivia, South America.
In September of 1944 the Maryknoll Superior General received a request from the president of Lingnam University in Canton, China, for two to four priests to manage hostels and teach arts and science courses at the University as soon as World War II ended. Lingnam University at that time was the largest and best known private, non-sectarian university in China. In February of 1947, Father Hahn was given the special assignment to teach engineering and mathematics at Lingnam University. He had a reputation of having a positive attitude toward the people and students. Amongst them he was kindly, sympathetic and easily approachable. He was generous with his time and always anxious to help anyone who turned to him. In October of 1949 the Chinese Communists overran Canton, but Father Hahn and other foreigners were allowed to continue teaching under Communist control. He remained at Lingnam University until January of 1951 when all foreign professors were expelled from China by the Communist government. In the late 1970s he returned to Canton where he visited the university and the very building, still in use, which he had designed and built there.
Father Hahn returned to the United States in 1951 and was assigned to manage the Maryknoll Field Afar Bookshelf in the Publications and Mission Education Office at Maryknoll, New York. Ten years later, in April of 1962, he was transferred to the Maryknoll Mission in Chile, South America, and served there for about three years. In May of 1965 he was appointed Director of the Catholic Relief Services in Recife, Brazil. He worked in various relief projects until he was recalled to Maryknoll Center, New York, in June of 1966, to serve as the Director of Maryknoll's new Data Processing operation. It was his task to develop a computer system for the benefit of the whole Maryknoll Society. In this he amazed even I.B.M. experts who came to study the system that he developed. Throughout his life he maintained a keen interest in electronics as well as photo journalism.
In September of 1970, Father Hahn was assigned to the Social Communications Department as Head of the Book Marketing and Sales promotion of Orbis Books. He remained with Orbis until 1985. During those years he also traveled extensively, taking photos for Maryknoll Magazine and making documentary films of mission work in Maryknoll missions throughout the world. On the social level, he was active in Duplicate Bridge circles and achieved the prestigious title of Life Master in 1975. For several years he was the Bridge Director at the Westchester Country Club in Harrison, New York, where he organized their weekly duplicate bridge games. He was an avid, although average, golfer and ardent patron of the Metropolitan Opera in New York City.
In November 1987 Father Hahn began medical treatment and other therapy which occurred periodically for several years until the end. Spiritually he was an exemplary, dedicated priest, very sociable in the community and a loyal member of Maryknoll Society. He indeed enjoyed a fruitful life.
Wake services were held at St. Teresa's Chapel at 7:00 P.M. and Queen of Apostles Chapel at 7:30 P.M.on Tuesday, October 19. A Concelebrated Mass of Christian Burial was offered on Wednesday, October 20 in Queen of Apostles Chapel. The Principal Celebrant was Fr. Norbert J. Rans and the Homilist was Fr. Edward J. Manning. Interment was in Maryknoll Center Cemetery.