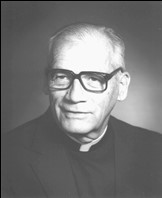 Father Joseph A. Heim, MM
Born: April 21, 1933
Ordained: May 13, 1961
Died: June 20, 2023
Father Joseph A. Heim died on June 20, 2023 in the Assisted Living Unit at Maryknoll, New York. He was 90 years old, a priest for 62 years and a Maryknoll priest for 42 years.
Joseph Anton Heim was born in the District of Columbia on April 21, 1933, son of Charles and Marie Heide Heim. He had three brothers and two sisters.
Father Heim was ordained on May 13, 1961 for the Archdiocese of Philadelphia and was a curate at St. Andrew's Church in Newtown, Pennsylvania when he joined Maryknoll as an Associate in July 1965 on a five-year contract. He worked in Caracas, Venezuela during this time. Cardinal Krol gave Father Heim permission to extend his work in Venezuela for a second five-year term. Father returned to the States in 1974 for a one-year course of study of C.P.E. and when finished, he went back to Venezuela. He was an invited member of the Seventh General Chapter in 1978.
On July 15, 1981, Father Heim was accepted by Maryknoll to join as a Permanent Member. Upon his incardination into Maryknoll, he again served in Venezuela and was appointed as the Latin American Representative to the Formation/Education Department for two years. In October, 1986, he was appointed Assistant Regional Superior of the Venezuela Region.
Father Heim remained in Venezuela until July 1, 2001, when he returned to the United States to serve as Assistant Director of the Department of Society Member Services, (now OSP). He held this position until May 2004, when he was assigned to the Retirement Community. Father Heim then moved to El Paso, Texas and helped out in Saint Pius X parish on weekends.
In September, 2010, Father Heim relocated back to the Philadelphia area where he resided at St. Ann's Parish in Phoenixville and offered sacramental assistance. Father Heim was the editor of "What They Taught Us, How Maryknoll Missioners Were Evangelized by the Poor," published in 2009 by Orbis Books. He was the author of "Transformation: The People and Events That Changed the Thinking of a Priest", published in 2016 by Dorrance Publishing Co.
In 2018, Father Heim was assigned to the U.S. Region with Senior Missioner Status and in 2019 he was appointed to the Pastoral Visitors Team. He continued to reside at the Society Center in Maryknoll, New York.
Father Heim is survived by his brother, Matthew Heim, his sister, Ms. Mary Frances Wallace, his niece, Catherine L. Heim, and his nephew, Craig Heim. Father Heim was pre-deceased by his two brothers, Charles Heim and Father Donald Heim of the Archdiocese of Philadelphia, and his sisters, Ms. Mary Frances Wallace and Sr. Christine Marie Heim, IHM.
Wake services were held on June 27, 2023 in the Holy Spirit Chapel and the Queen of Apostles Chapel at the Maryknoll Society Center. Mass of Christian Burial followed at 11:00 a.m. and was concelebrated in the Queen of Apostles Chapel. Father Gerald Persha was the Celebrant and Father Timothy Kilkelly was the homilist. Father Juan Zuñiga read the biography and Father Richard Smith read the Oath.