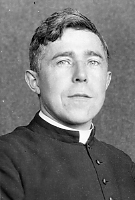 Father Joseph A. Hunt, MM
Born: October 17, 1893
Ordained: May 29, 1920
Died: April 15, 1981
Father Joseph A. Hunt (Special Society Unit – Japan) died Wednesday, April 15th, 1981 at St. Mary's Hospital, Tokyo. The Sisters and nurses were with him at the moment of death — caring for him and praying for him, and seeing his death much in union with Christ's death during these days of Holy Week.
Born in Roxbury, Mass, on October 17, 1893, Father Joe was one of four sons born to Michael Hunt and Bridget Broderick. His education before entering Maryknoll shifted according to family finances, between parochial and public schools and culminated in graduation from Boston College Prep.
The close-knit religious family formed a tension in Father Joe of devotion both to his family and to his vocation as foreign missionary priest. Indeed, he almost did not come to Maryknoll because of his family, for when he entered in September of 1913, his father was supporting the family as a laborer on $2 a day wages. The early example of generosity in the family toward his vocation inspired Father Joe to a life of unstinting charity and love; in material assistance, in spiritual guidance and in brotherly concern.
From the beginning of his priestly career, extending for more than sixty years following ordination on May 29, 1920, Father Joe was a model of the priest whose union with Christ impelled him to give, to sacrifice himself. While his sense of humor provided balance, his deep trust in God gave him confidence as he constantly moved toward others and to new challenges. Perhaps the variety of his future work was reflected in his advance toward mission: he received the Diaconate at Seton Hall, priesthood at St. Patrick's Cathedral, New York City, and his departure from Scranton Cathedral. Father Joe served the Society in the United States, Korea, and Japan. He served as teacher, Society Superior, General Chapter representative and member of the General Council, but most of all as missioner. From 1921 to 1925 he was a teacher at the Venard, during which time – from 1923 to 1925, he was a member of the Council. In 1925 he was assigned to Korea where he served as Society Superior in 1930 and Chapter Delegate in 1936. In 1942 he returned to the United States on the Gripsholm and was assigned to serve the prisoners of war at the West Coast Camp until his return to Japan in 1945 where he labored until his death. In June, 1980 he became a member of the Special Society Unit in Japan. He worked, as he said, "among Chinese, Koreans, Japanese, Mexicans, and Italian and German prisoners of war with no trouble." He was a groundbreaker, not an organizer; open always to the challenge ahead.
Father Joe's motivation, however, was people, not work. Thoroughly in love with his priestly vocation, he constantly encouraged native vocations to the priesthood, lay vocations to the missions, conversions to Christ and His Church. As one said of Fr. Joe's many friends of all ages: "They love him; he loves them." His outward enthusiasm was contagious, yet he wrote privately: "The Maryknoll Prayerbook says: Grant us, Lord, to be the doorstep by which the multitudes may come to worship Thee. I often wonder if the thought applies in a pure literal meaning."
A wake was held for Father Joe in Japan on Holy Thursday, with cremation following on Good Friday. On Wednesday, April 22nd, a Memorial Mass was held at Mie-ken at the Matsuzaka Catholic Church with the Bishop and local Maryknollers attending and concelebrating. A second Mass took place at the Mikumo Children's Home where Father Joe was chaplain for many years, on the 23rd. Burial was in the Matsuzaka Parish cemetery on the same date. At the Center a Memorial Mass was concelebrated on April 21st with Fr. Gerald Beausoleil as Principal Celebrant and Fr. Richard Whitmore as Homilist.
Father Joe's passing is so bittersweet. As a Maryknoller from Japan said recently: "We need him." While Maryknoll joys in his victory, we mourn his passing from us. Father Joe had a motto learned from an experienced missioner in India: "Plow the rock till it bear." His harvest is one hundredfold. May the seed of his example grow in us all.