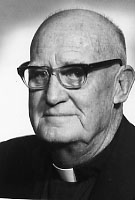 Father Joseph A. McDonald, MM
Born: March 11, 1914
Ordained: June 16, 1940
Died: August 27, 1988
Father Joseph Albert McDonald died at Phelps Memorial Hospital on August 27, 1988. He was 74 years of age and an active missioner for 48 years.
Joseph Albert, the 8th child of John M. and Catherine Cannon McDonald, was born on March 11, 1914 in Dorchester, Massachusetts. There were seven boys and one girl in the family. Their mother died when Joseph was sixteen and his sister, Marietta, became like a mother to him. She also later was his best Developer and Sponsor for him in supporting his mission projects. His early education was in St. Columbkille Parochial School in Brighton and he was graduated from Boston College High. He attended Holy Cross College in Worcester for a year and a half and then transferred to Villanova University, where his brother Paul was enrolled. But it was at Holy Cross that he became serious about studying for the priesthood and foreign missions. At the end of his sophomore year at Villanova he entered Maryknoll, in 1933 and was ordained on June 16, 1940. He was a good student, a good athlete, popular, thoughtful and considerate of others – all virtues which made him an excellent missioner.
Like his confreres at that time he said he was open-minded about any mission anywhere. He was assigned to the Vicariate of Wuchow, South China. He became a good preacher, very good in spoken Cantonese and fairly good in the language. In China he was considered a hard-working, happy, zealous, missioner. A number of his letters home were gathered together in a booklet by his sister Marietta, describing his activities and observations in Wuchow, from July to October, 1941. These letters must have been a source of inspiration to those who read them because they indicate not only his activities but also his inner attitudes, feelings and spirit. He kept up letters and diaries as best he could through the years, regardless of war, imprisonment and a very active missionary work.
He remained in the Wuchow Mission all through World War II, serving the people. After a furlough at home in 1948 he returned to his mission in Yunghui and remained until his arrest by the Communists in 1951. He was called before the court to answer 18 accusations against him and then kept under house detention. He suffered some physical violence and his health was weakened by the ordeal. Finally he was expelled and returned to the U.S. to regain his health.
Fr. McDonald's next assignment was to Taichung, Taiwan. From the beginning he concentrated on the Taiwanese language and prepared himself well for 35 years of apostolate in Taiwan. His reputation as a hard-working, happy missioner continued. As a natural leader, he was well liked by his people and had a great influence on other Maryknollers in his area. Throughout those years he was responsible for the construction of 4 new parish churches and the instruction of many converts. As an example, he started with 3 converts in Chingshui in 1953 and, with God's grace, built up the mission to 700 members by 1955. Bishop Lane, then Superior General, wrote of him, "He can be counted on in the long run to be loyal and tireless in his work. We have a good man here." Father Joe was always seeking new ways of contacting the people and leading them into the Church. He relied on a well-established catechist program in each of his parishes. In 1957 he was transferred to Pri Tou as pastor to build up a new mission there. He moved to Pei Tou in 1959 and again built up a thriving parish. While still pastor he was placed in charge of one of the Deaneries of the Taichung Diocese.
In Pei Tou his habit of seeking ways to create interest in the Church showed up. Without much encouragement from many, he started a vocational automotive training school for high school graduates to enable them to learn a trade and find a job. His young graduates were in great demand and have shown the value of such practical education in a country where the automobile is an integral part of life. Fr. McDonald was the administrator of this vocational school for 15 years even though he was assigned to Yuan Lin, another parish that needed building up. One of his superiors wrote: "Fr. McDonald is one of the better missioners in Taiwan. He was successful in all the missions of which he was pastor and always anxious about the people and their part in building up the Church." In Taichung he had a special apostolate with a group of elderly people concerned with teaching the Faith to their children.
Due to health concerns, he returned to the U.S. in March of 1987. He retired to St. Teresa's and spent his last year yearning to return to his Taiwanese people.
Wake services were held at St. Teresa's on August 29th and at the Center Chapel. Fr. John Moran read the biography. Mass was offered next day with Fr. Raymond Nobiletti as main celebrant and Fr. James Collignon giving the Homily. Fr. Vincent T. Mallon conducted the burial ceremony at the Maryknoll Cemetery.