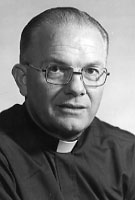 Father Joseph A. Reinhart, MM
Born: October 27, 1924
Ordained: June 10, 1950
Died: June 12, 1999
Father Joseph A. Reinhart died on Saturday, June 12, 1999 in Musoma, Tanzania. He was 74 years of age and a Maryknoll priest for 49 years.
Joseph Reinhart was born in Stratford, Ontario, Canada, on October 27, 1924 to Mathilda and Christian Reinhart. His family consisted of three sisters and three brothers. Father Reinhart was a Canadian citizen. He attended Immaculate Conception Parochial School and graduated from Stratford Collegiate Vocational Institute. Father Reinhart studied at St. Peter's Seminary, London, Ontario, and received his Bachelor of Arts in Philosophy through the University of Western Ontario. He entered Maryknoll Novitiate at Bedford, Massachusetts, on September 10 and was ordained at Maryknoll Seminary, New York, on June 10, 1950.
On August 18, 1950 Father Reinhart left the United States for his first mission assignment in Musoma, Tanganyika. He served in the Musoma mission as an assistant pastor and later as pastor of Rosana mission among the Bakuria people. The story of his ministry was written up in the book entitled The Meaning of Maryknoll. In 1959, he opened a new mission in Tarime. In 1963 he became a teacher at St. Pius X Seminary and in 1967 was appointed Rector of the seminary. Father Reinhart was recalled to the United States in April 1973 for work in the Development Department. During his five years, he served as Regional Director of Development and local superior of the Buffalo House for three of those years. He returned to Africa in 1978 and was assigned to the new Maryknoll Mission Unit in Zambia, where he served as the Pastor of the Cathedral Parish in Solwezi. He was appointed 2nd Assistant to the Regional Superior of the Kenya Region on November 2,1983 and served as pastor of the Jericho Parish.
On July 19 1986 Father Reinhart was transferred to the Tanzania Region to serve as Director of the Maryknoll Language School in Musoma. In 1990, he commented that his 35 years in East and Central Africa plus his five years in the Buffalo, New York Development House were all very interesting and rewarding. Father Reinhart loved being a missioner and priest. He found the Maryknoll Guild Members in Buffalo very inspirational and dedicated to the work of Maryknoll in mission lands. In Africa he was not involved in building projects like many other Maryknollers, but he found the other apostolic works very rewarding, whether in schools, jails, hospitals, the catechumenate, junior seminary or working with catechists and parish councils. In 1954 Musoma Diocese ordained its first African priest, Father Lawrence Magesa and he was assigned to Rosana mission where Father Reinhart was pastor. Thirty years later they were working together in Jericho Parish, Nairobi. In preparation for the Eucharistic Congress and Pope John Paul I's visit, the two of them prepared 46 couples for marriage and on that day each solemnized 23 couples in a long rewarding ceremony. Father Reinhart said that "to see the local Church blossoming from 1950 until now and to know that you have been a small part in that important work is a missioner's joy." He retired in 1997 and took up residence at the Maryknoll Society House in Musoma, Tanzania. While there, he remained active in the apostolate, offering his services as a teacher at St. Pius X Seminary and the Immaculate Heart Sisters of Africa Novitiate until the day of his death.
Father Reinhart was waked on June 16, 1999 at the Mwisenge Catholic Church in Musoma. He was the first pastor of this new parish and it was his last assignment prior to his retirement. The wake was continuous throughout the day and night. On June 17, 1999, there was a procession to the Musoma Cathedral for the funeral. Bishop Justin Samba of Musoma diocese presided and Father Robert Jalbert, MM was the homilist. Father Reinhart was laid to rest at St. Pius X Seminary, just outside the seminary chapel. Father Ramon McCabe, MM conducted the graveside services. A memorial Mass was held at Queen of Apostles Chapel, Maryknoll, NY on Tuesday, August 10, 1999.