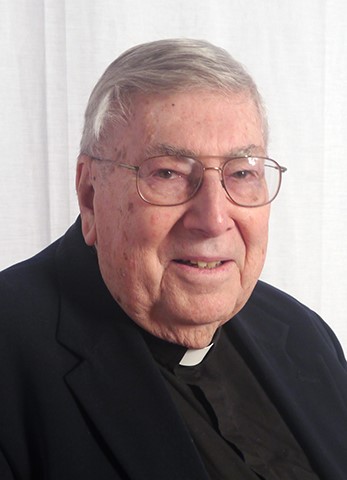 Father Joseph B. Arsenault, MM
Born: May 21, 1930
Ordained: June 13, 1959
Died: December 2, 2020
Father Joseph B. Arsenault died on December 2, 2020 at the Assisted Living Center at Maryknoll, New York. He was 90 years old and a Maryknoll priest for 61 years.
Joseph Bernard Arsenault was the first-born to Joseph Albin Arsenault and Louise Alice Hutt on May 21, 1930 in Newton, Massachusetts, where he grew up with two younger sisters and four younger brothers. He was always known as "Bernie" by his family members and friends. He graduated from Newton High School in 1949 and entered Maryknoll that same year. He was ordained a Maryknoll priest at Maryknoll, New York on June 13, 1959 with 56 classmates.
After ordination, Father Arsenault was assigned to the Peru Region and, upon completion of language studies in Cochabamba, Bolivia, was assigned to work as Assistant in Our Lady of Guadalupe parish, Balconcillo, Lima, Peru.  During his time in Our Lady of Guadalupe, as well as doing the parochial ministry in a large parish, Father Arsenault organized Confraternity of Christian Doctrine programs, especially the Parent Educators Program, for the parish and the Lima Archdiocese.
In February 1964 he was assigned to the Azángaro parish in the Diocese of Puno on the Altiplano in southern Peru, where he was a member of a four-man team in parochial ministry.  His work was also with the Quechua catechists' training programs.  In 1966, after returning from a six-month furlough in the United States, he was named director of the Puno Catechetical School (Centro Apostólico del Altiplano).  Some new methods of training Aymara and Quechua catechists on the Altiplano proved successful, and when the training courses were brought to many parish centers for one-to two-week programs, the parish personnel in each place could participate in the process with a higher percentage of follow up.
In 1969 Father Arsenault returned to work in the United States during which time he took theology updating courses and several courses in art and audio-visual communication at The Art Institute of Boston.  At Boston College summer school he took a course in Educational Psychology, with pedagogical methods useful for training catechists in Peru.  He also served for a time as chaplain to Phelps Memorial Hospital, Sleepy Hollow, New York.
In 1979 he returned to Peru for a while, living in Chucuito on the shore of Lake Titicaca, before being assigned to Development work in St. Louis, Missouri in 1982.  After two years in St. Louis he was assigned to the Chestnut Hill Development house near Boston, where he worked another two years before being assigned as Administrator of the former Maryknoll novitiate in Central Square, Cambridge, Massachusetts, getting it ready for sale.  After it was sold in April, 1987, he was asked to be editor and publisher of the Maryknoll Society newspaper, the Maryknoll News; this was his primary job even in his post-retirement years.  Fr. Arsenault pioneered the "desktop publishing" system for the Maryknoll News production after he was assigned to it in 1987.
Father Arsenault tried to use the talents he had, and he had many interests.  His first joy was his Peru mission work.  He also used his talents in art, photography, and music.  He loved painting portraits and doing landscape painting.  For many years, he was an avid runner, competing in over one hundred 10K road races and finishing thirteen marathons of 26.2 miles each.  In 1995 he hiked some of the Appalachian Trail and began playing the Native American flute.  Before celebrating his 40th ordination anniversary in 1999, he helped out for six weeks in St. Mary's parish, Kodiak, Alaska.
In 2001 he was instrumental in starting an ethno music collection for the Society Archives, beginning with his own collection of Quechua Worship Songs that he recorded in 1964 while in Azangaro, Peru.  He was a member of the World Flute Society.  In 2006 he received the "Naja Award" from R. Carlos Nakai, founder of the Native American Flute Association, acknowledging his past work in Peru and with the Native American flute music in the U.S. At Maryknoll, New York, he and John Sarantos, professional flute player from Michigan, performed many times at the Center and on Channel 15.
A Mass of Christian Burial was celebrated in Queen of Apostles Chapel on December 7, 2020.  Father Joseph Everson was Principal Celebrant and homilist. Father Michael Duggan read the Oath and Brother John Blazo read the biography. Burial followed in the Maryknoll Society Cemetery.