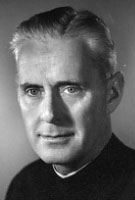 Father Joseph Daly, MM
Born: August 7, 1907
Ordained: June 17, 1934
Died: July 4, 1980
Born of Irish immigrants in Worcester, Massachusetts on August 7, 1907, Joe was the only son* of four children of John J. Daly and Hannah Fogarty. He received twelve years of grammar and high school education at the Academy of the Sacred Heart in Worcester. His first year of college at Holy Cross in 1924 terminated because of illness. The following year he entered Boston College – "a day school where the tuition was cheaper"- where he completed two years before entering Maryknoll in September, 1928. [*correction: John and Hannah Daly had two sons. Fr. Daly's brother died as a child.]
Joe wrote: "Since the first day of my college course, I have had the desire to become a priest. I prayed to God to direct me to attain that end." Thoughts of Maryknoll came through a Maryknoll seminarian friend. Joe was ordained on June 17, 1934 and departed for his mission in Japan on June 29th of the same year.
Once again illness determined the course of his life. In June, 1938 he was assigned to Peng Yang, Korea, which was judged more conducive to his health. Both his work and his grasp of the language flourished. World War II, however, necessitated his return to the States on the Gripsholm in August, 1942. He then volunteered as a military chaplain and served in the Navy for the duration of the war.
From 1946 to 1954 he was under treatment for an illness. Because his sickness was contracted as chaplain, treatment was designated in Washington, D.C. With his doctor's permission and that of Maryknoll, Joe combined treatment with studies. In June, 1955 he was awarded a Doctor of Philosophy Degree, with History as a major, from the Catholic University. In frail but good health, he then began his teaching career at Glen Ellyn. In 1972 he served in the Development Department, and in 1978 entered the Special Society Unit.
Throughout his Maryknoll career Joe was the priestly gentleman. He offended no one. His interest ever was people. On the missions he was noted for his "empathy and compassion". As a chaplain he was "the example of priestly zeal and Christlike kindness." As a professor he was humble and always the one asked to represent Maryknoll to those many who visited the college-seminary. His sensitivity and gentleness were unfailing.
There was a wake service at St. Sebastian's Church, Kenfield, Green Brae, California on July 7th with the Mass of the Resurrection there the next day. Burial followed in the Maryknoll cemetery, Los Altos, California. At Maryknoll, N.Y. a memorial Mass was celebrated on July 9th, principal celebrant being Father John Halbert; homilist Father John McConnell, and biography by Fr. William Frazier.
Joe's spirit was a gentle one, an example to all. "The Spirit produces love, joy, peace, patience, kindness, faithfulness, humility and self-control." (Galatians 5:22).