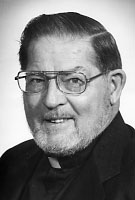 Father Joseph E. Brannigan, MM
Born: April 24, 1919
Ordained: June 9, 1946
Died: February 26, 1999
Father Joseph E. Brannigan died in the morning of February 26, 1999 at Phelps Memorial Hospital, Sleepy Hollow, New York. He was 79 years old and a Maryknoll priest for 52 years.
Joseph was born in New York City, April 24, 1919, son of Francis and Susan McKenna Brannigan. He has one brother and one sister. His early schooling took place at Our Lady of Mt. Carmel in the Bronx and Cathedral College in New York City. Before entering Maryknoll in September 1941, Joseph pursued his B.A. degree at St. Joseph's Seminary in Yonkers, New York. Father Brannigan was ordained at Maryknoll, New York on June 9, 1946.
Father Brannigan's first mission assignment was to the Musoma Diocese, in Musoma, Tanzania where, after language studies, he was assigned to Kowak parish. He, along with Fathers Albert Good, William Collins and Louis Bayless, were the first group of Maryknollers assigned to Africa. However, in June 1947, he was asked to set up a new mission at Rosana in Tarime District. In October 1946 and in 1951 he was appointed Second Consultor. In 1954 he was assigned to Maswa, Tanzania and in 1956, he transferred to Shinyanga and was named Education Secretary. Also in 1956, Father Brannigan was appointed First Consultor and was then appointed Vicar General for the Shinyanga Diocese, a position he filled until 1971.
Father Brannigan also worked for several years in the mission of Sayusayu before returning to the United States in 1971 and to Maryknoll to pursue further studies. In June 1973, he was officially assigned to the United States and the Formation Education Department and appointed Coordinator for Continuing Education, a position he held until 1977. Under the auspices of Continuing Education, he became the Director of the Mission Renewal program which had been set up in early 1974. In February 1980, Father Brannigan was assigned to the Center for Mission Studies for six months and on September 1, 1983 was assigned to the Business Office of the Seminary.
Father Brannigan returned to Africa in March 1989, and assumed the position of administering the Nairobi Society House in Kenya. In June 1992, he returned to the United States and entered the Special Society Unit in October 1992. At that time Father Brannigan took up residence with his family on Long Island. In January 1999, due to health reasons, he moved to St. Teresa's Residence.
Wake services were held at 7:00 p.m. on March 1, 1999 at St. Teresa's and at 7:30 p.m. at Queen of Apostles Chapel at Maryknoll Center where Father Lionel Bouffard presided and Father William Tokus read the biography. Mass of Christian Burial was concelebrated at Queen of Apostles Chapel on March 2, 1999 at 11:00 a.m. Bishop Patrick Ahern, Archdiocese of New York, and classmate of Fr. Brannigan's at Cathedral College, was Principal Celebrant and Father Alphonse Schiavone homilist. Burial followed at Maryknoll Center Cemetery with Bishop Patrick Ahern conducting the graveside service.