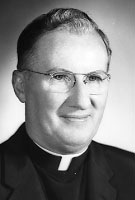 Father Joseph E. Early, MM
Born: August 16, 1912
Ordained: June 11, 1939
Died: September 26, 2002
Father Joseph Early died on September 26, 2002 at Phelps Memorial Hospital, Sleepy Hollow, New York. He was 90 years old and a Maryknoll Priest for 63 years.
Joseph Edward Early was born in Scranton, Pennsylvania, on August 16, 1912, son of Thomas and Teresa Mercedes Jordan Early. He took his grammar and high schooling at St. Patrick's Parochial School in West Scranton and attended St. Thomas Aquinas College for two years. He was attracted to Maryknoll through the Field Afar Magazine, and was accepted into Maryknoll by Father James A. Walsh in September 1932. He wrote in his autobiography in 1932 about his vocation to mission and Maryknoll – "My mother, being a pious woman, instilled in her children a love of God. She saw to it that we approached the sacraments with regularity. It was from my mother that I first heard the lives of the Saints expounded. And it was through her inspiration that the first seed of my vocation was sown. A series of events led to my desire to become a foreign missionary. When I was in the sixth grade, I had a teacher who read to the class a book on the manners and customs of the Chinese. One of my aunts subscribed to the Field Afar, which I read now and then. It was after my first visit to the Venard on visitors' day that I first wished to join the Maryknoll Foreign Mission Society. My parents encouraged me to finish school  before I applied to Maryknoll." On June 11, 1939, Father Early was ordained a priest at Maryknoll, New York, by Bishop James E. Walsh.
Father Early was assigned to the Maryknoll Mission in Fushun, Manchuria and arrived there in September 1939, as World War II broke out. After five months of language study, he was assigned to T'ung Hua mission in the Province of Kirin. On August 15, 1941, four months before Pearl Harbor, the Japanese government took away his U.S. passport. On December 8,he became a prisoner of war by the Japanese. He was under house arrest for about a week and was then shipped to the Mukden concentration camp where he lived for seven months. He was subsequently sent to the Japanese Naval prison in Kobe, and put on the Japanese liner "Asama Maru" which took him to the Portuguese seaport of Lorenzo Marques, Mozambique. He was then returned to the United States aboard the repatriation ship Gripsholm.
On January 24, 1943, Father Early was assigned to Maryknoll's new Mission in Ecuador. The assignment consisted of being Auxiliary Chaplain to the U.S. Army and Naval Forces stationed at Salinas, Ecuador, some 100 miles from Guayaquil. He was also assigned to help the English-speaking Catholics in Guayaquil and to do mission work in the Province of Los Rios.
While on vacation in Peru in December 1945, Father Early asked Council Member, Father John Considine, who was making a visitation of Peru, if he could stay in the Altiplano while waiting to go back to Manchuria, as the climate there would prepare him better for the rigors of northern China. He was granted permission by Considine, and the Superior, Father Arthur Kiernan. In June 1947, he was informed that he would be going back to Manchuria in August, but this was changed at the last minute. As a result, Father Early was assigned to assist Father John M. Martin at the Maryknoll Junior Seminary in St. Louis, Missouri. In June 1948 Father Early was assigned to Huehuetenango, Guatemala, and in March 1957 he suffered an illness and returned to the United States in September of that year. After 10 months of recuperation, in July 1958, he was assigned to Maryknoll's Mission in Yucatán, Mexico. He served as Assistant in Peto, and Merida, and was appointed Pastor in Carrillo Puerto and Bacalar in the Territory of Quintana Roo, which was under the Diocese of Campache. He was first appointed Dean by the Bishop and then was elected by the priests serving there.
In 1969, Father Early asked to be assigned to the United States temporarily. He was sent to the Diocese of San Francisco where he served at the Mission Dolores Church for one year. He was reassigned to Yucatan in 1970. He retired in 1984, at the age of 72, and took up residence at Los Altos, California. At the time of his retirement the Superior General wrote to Father Early the following: "I would like to take this opportunity, Joe, to express my own, and Maryknoll's deep sense of gratitude to the Lord for the wonderful gift He has made to the Society and mission through your good self. Your years of missionary priesthood have been marked by apostolic zeal, Christian kindness and gentleness. All of us and all of God's people, who have had the pleasure of meeting you and knowing you, have been enriched by that experience; and have come to know the Lord better because we have known you."
Due to the San Francisco earthquake in October 1989, when the Maryknoll Residence was severely damaged, Father Early had to leave, and take up residence at Maryknoll, New York. However, in January 1995, he returned to Los Altos, where he lived until June 2000 when he moved to St. Teresa's. Society members who knew him during his years at Los Altos report that Father Early was a man of strong convictions, and he loved to argue. He put ketchup on everything he ate, and he enjoyed a cutthroat game of chess.
Wake services were held at 4:30 p.m. on September 30, 2002 at St. Teresa's, with Father John Drew officiating, and at 7:30 p.m. in Queen of Apostles Chapel at Maryknoll Center where Father Gerald Nagle officiated and Brother J. Francis Dolphin read the biography. Mass of Christian Burial was concelebrated in Queen of Apostles Chapel on October 1, 2002 at 11:00 a.m. Father Richard Clifford was Principal Celebrant and Father Robert Lloyd homilist. Burial followed in Maryknoll Society Cemetery with Father Eugene Toland conducting the graveside service.