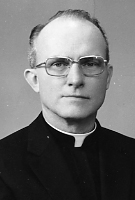 Father Joseph E. Luckey, MM
Born: November 6, 1926
Ordained: June 13, 1953
Died: October 25, 1993
Father Joseph Eugene Luckey was killed in an auto accident at about 3:15 p.m. on Monday, October 25, 1993, in Toasa village, near Tomakomai, Hokkaido, Japan. He was 66 years of age and a Maryknoll priest for 40 years. He left his parish in Kyoto for Hokkaido on October 18th to attend the Regional retreat at the Trappists Center. He remained in Hokkaido after the retreat in order to visit close friends from the 23 years he worked in Hokkaido. The accident occurred at a crosswalk in the village of Toasa.
Father Joseph Luckey was born on November 6, 1926 in Covington, Kentucky, son of Joseph Albert Luckey and Nell Elizabeth Powers. He has one sister. After attending St. Mary's Parochial School in Covington and Holy Family Parochial School in Cincinnati, Ohio, he went to Elder High School in Cincinnati for two years. Joseph entered Maryknoll Junior Seminary in Cincinnati, on September 8, 1942 and attended classes for two years at St. Gregory Seminary. He entered Maryknoll Apostolic College (Venard) in September 1944 and after two years moved to Maryknoll Seminary, in Ossining, New York. He received his Bachelor of Arts degree in Philosophy in June 1948, and his Bachelor of Sacred Theology degree in June 1953. Joseph was ordained a priest at Maryknoll Seminary on June 13, 1953.
After ordination, Father Luckey was assigned to the Maryknoll Mission Region in Japan and studied Japanese language and culture for a year and a half in Tokyo. Father Luckey was one of the first group of Maryknollers to go to the northern Island of Hokkaido in August 1954 to establish the new Maryknoll mission there. He was appointed Assistant Pastor of Immaculate Conception Parish in Tomakomai, where he served for four years and did excellent work in the youth club and pastoral ministry. In June 1 958 he became Administrator of the East Muroran Parish in Hokkaido. After home furlough in 1959 Father Luckey returned to Japan and was appointed Pastor of the parish in Iwamizawa where he built a church and youth center. While on home furlough in 1965 he studied the linguistic course at the English Language Institute of the University of Michigan. On his return to Iwamizawa, he built the Catholic Cultural Center near the Teachers College. Besides his pastoral ministry he also taught English in the Muroran University and the Iwamizawa Teachers College.
After 13 years in Iwamizawa, Father Luckey was transferred to the Shintomi-cho parish in Tomakomai, where he served for three years. He was appointed Third Assistant to the Regional Superior on March 20, 1975. In 1976 he was appointed Pastor of the Omotemachi Parish in Tomakomai. On January 1, 1978, Father Luckey became the Regional Superior for the Japan Region and moved into the Regional Center House in Tokyo. He participated in the Maryknoll General Chapter at Maryknoll, New York in October-November 1978. On October 10, 1980 he was re-appointed Regional Superior for a three year term.
After finishing his term of office as Regional Superior, Father Luckey began a one year Sabbatical leave. He participated in the Maryknoll Spiritual Renewal Program in Jerusalem, Israel, the Vatican II Institute at St. Patrick's Seminary, Menlo Park, California, and the Clinical Pastoral Education Course at United Methodist Hospital, Jacksonville, Florida. Upon his return to the Japan Region in 1985 he was appointed Pastor of the Momoyama-Yamata Catholic Churches in the Kyoto Diocese. Father Luckey celebrated his 40th anniversary of priesthood in June 1993 at Maryknoll Center, New York and returned to his parish in Kyoto. He was visiting in Hokkaido when the tragic accident occurred.
Wake service was held on Tuesday evening at 6:30. The Regional Superior, Father Regis Ging presided and Father Gerald Beausoleil gave the sermon; many priests and over 500 people attended. The concelebrated Mass of Christian Burial with over 40 priests and 300 people was offered on Wednesday at 1:00 p.m. Bishop Jinushi of Hokkaido presided and gave the sermon. A funeral Mass was offered in his parish in Kyoto on October 31 at 3:00 p.m. Father Luckey's ashes were interred in the Kinugasa cemetery. A Memorial Mass was offered in Queen of Apostles Chapel at Maryknoll Center on Friday, October 29, 1993.