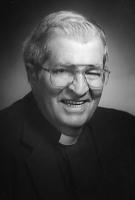 Father Joseph F. Croghan, MM
Born: July 12, 1933
Ordained: June 9, 1962
Died: January 20, 2005
Father Joseph F. Croghan died at St. Teresa's Residence, Maryknoll, New York in the evening of January 20, 2005. He was 71 years old and a Maryknoll priest for 42 years.
Joseph Frederick Croghan, son of Helen and Joseph Croghan, was born in Union City, New Jersey on July 12, 1933. He had four sisters. He attended Epiphany Grammar School and Cliffside Park High School, both in Union City. He joined Maryknoll in September 1952, reporting to the Maryknoll Junior Seminary (Venard) in Clarks Summit, Pennsylvania. He holds a BA in Philosophy from Maryknoll College, Glen Ellyn, Illinois and a M.R.E. in Moral Theology from Maryknoll School of Theology, Maryknoll, New York. Father Croghan was ordained at Maryknoll, New York on June 9, 1962.
Following ordination, Father Croghan was assigned to the Philippines where he spent his entire missionary career. After attending language school, he was assigned to Sigaboy for one year and then to Lupon and Mati. In 1966 he returned to Lupon where he helped build a parish church. From 1967 to 1974 his mission work was in Bato Bato as a parish priest. During this time he started a candle factory, the profits of which enabled poor children to have the finances to attend high school. In this same area he started a small piggery which helped raise money for the medical emergencies of indigent local people. Christian Community Seminars were introduced there, and as they succeeded, they spread to other parishes. For all of these efforts Father Croghan was awarded a Presidential Decree through the Governor. He formed bible study groups, and from these the first group of lay missioners went out to other parishes. Using his experience from Bato Bato parish, he developed a literacy program for people in Leyete.
The next assignment brought Father to Cebu where he taught scripture for four years at San Carlos University. While at the University he edited a pastoral newsletter sent to all the parishes in the Philippines. During the following three years he taught scripture at the newly formed Philippine Lay Mission Program in Davao.
From 1982 to 1986 he was the local Superior of the Maryknoll House in Manila. This was followed by a chaplaincy at two residences for handicapped people. Later he was the Chaplain at Fatima Center Orphanage in Iriga City, Camarines Sur, assisting disadvantaged and handicapped people.
Because of health problems, Father Croghan returned to the United States Region and in April 1994 was assigned to the Special Society Unit. However, he was able to return to the Philippines once again in 1997. After two years he returned to the United States and in January 2001, was assigned to the Retirement Community, with residency in North Carolina with his sisters, Lucille and Joan. Here he was Catholic Chaplain at the Wayne County, North Carolina Correctional Center. He was also temporary Chaplain at the Seymour Johnson Air Force Base in Goldsboro, North Carolina, where he did scriptural presentations. Father Croghan moved to St. Teresa's Residence in May 2004.
Wake services were held at 4:30 p.m. on January 26, 2005 at St. Teresa's, with Rev. Thomas McDonnell officiating, and at 7:30 p.m. in Queen of Apostles Chapel at Maryknoll Center where Rev. J. David Sullivan officiated and Bro. Eugene Casper read the biography. Mass of Christian Burial was concelebrated in Queen of Apostles Chapel on January 27, 2005 at 11:00 a.m. Father Robert Lloyd was Principal Celebrant and Rev. Donald Doherty homilist. Burial followed in Maryknoll Society Cemetery with Rev. John Sivalon conducting the graveside service.