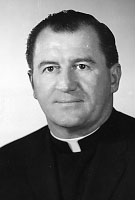 Father Joseph F. Gribbs, MM
Born: August 29, 1923
Ordained: June 14, 1952
Died: June 15, 1995
Rev. Joseph F. Gribbs died suddenly in Santa Cruz, Bolivia, in the early afternoon of Wednesday, June 14, 1995. It was the 43rd anniversary of his ordination. He died in the San Roque parish rectory where he had gone for his accustomed weekly day off from his pastoral duties in Warnes, Santa Cruz. Father Gribbs was 72 years of age.
Joseph Gribbs was born on August 29, 1923, in Detroit, Michigan, son of Roman and Magdalena Grzyb. The family name was later legally changed to Gribbs. He had one brother, Judge Roman Gribbs, a former Mayor of Detroit, Michigan. Joseph attended Reil Grammar School and one year at Our Lady of Mt. Carmel High School, both in Emmett, Michigan. He worked on the family farm for two years before entering Maryknoll in Akron, Ohio, in September 1941 and went on to Cleveland where he finished high school at Cathedral Latin School. He then transferred to Maryknoll Apostolic College (Venard), Clarks Summit, Pennsylvania. He received his Bachelor of Arts degree in Philosophy and was ordained a priest at Maryknoll, New York, on June 14, 1952.
After ordination, Father Gribbs was assigned to the Maryknoll Mission Region of Bolivia where he spent his the rest of his life in mission service. During his early years as assistant pastor of the Warnes Parish in Santa Cruz he quickly gained an excellent command of the Spanish language and worked for six years, especially in the rural areas of the parish. In 1959, he was appointed Pastor of a newly established parish, Christ the King (Cristo Rey), in Villa Galindo, Cochabamba. There he put up a multipurpose building that served both as the church and meeting hall for parish activities and built the rectory. During his time in Cristo Rey, he acquired enough land adjacent to the parish property so that in later years a church and school could be built.
After Home Leave in 1964, he was appointed pastor of the Saavedra Parish in Santa Cruz and a year later was transferred as pastor to the San Roque Parish in the city of Santa Cruz. In 1969, he was assigned as assistant in the Parish of Santa Ana, Cochabamba, where he remained a year and a half before returning to Santa Cruz. In 1970, he organized the Pre-Cana Conference for the Diocese. He was also influential in establishing the first Alcohol Anonymous group in the city of Santa Cruz. In 1970, he was one of two Maryknollers considered by the General Council to fill the newly established post of Administrator of the Center (later to become known as Center Coordinator) at Maryknoll, New York.
In 1975 he was appointed 4th Assistant to the Regional Superior and served one term in that position. In 1979 he was named Pastor of the parish in Minero, Santa Cruz. In 1992, he was transferred as Pastor of the parish in Warnes.
Father Gribbs was a very active, enthusiastic missioner. As a result of his gregarious nature and his interest in people, he made friends easily. He was known, as the Superior General wrote in 1970, to be "a Maryknoller who has given evidence over the years as being satisfied and happy within the Society context, who has an outgoing personality and who has shown some flair in organization."
His gregariousness was anecdotal. While stationed in the parish of San Roque in the city of Santa Cruz, it was well known that while it took others in the rectory only a few minutes to walk the half mile to the center of town, it generally took Father Gribbs two hours, since he had to stop and chat with the many friends he encountered along the way, to talk with them about themselves their lives and their families.
His use of the Spanish language was second nature to him. He told the story on himself that at the end of a Home Leave in Detroit one year, where he celebrated Mass in his parish Church, a parishioner congratulated him on how much his English had improved during his stay.
In one of his personnel evaluations, Father Gribbs wrote of himself: "I am happy in my work and do try to get to know the problems of the people with whom I am working and thus be an influence in their lives so that they will be able to come to know Christ and the happiness that He brings us."
Wake services were conducted on June 14th in San Roque Parish, Santa Cruz, Bolivia, in his former parish in Minero on June 15th and in the parish church in Warnes, Santa Cruz, where his funeral was held on June 16, 1995. Burial was in the courtyard of the parish church in Warnes.