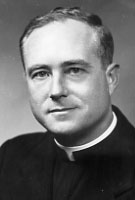 Father Joseph H. Cappel, MM
Born: November 16, 1908
Ordained: June 16, 1935
Died: May 31, 2004
Father Joseph Cappel died on May 31, 2004 in Curepto, Chile. He was 95 years old and a Maryknoll priest for 68 years.
Joseph Henry Cappel was born in Covington, Kentucky on November 16, 1908, son of Joseph and Eleanora Farfsing Cappel, he has six brothers, one of whom is also a Maryknoll priest, Father Charles Cappel. Also, Father John Northrop, M.M. is a cousin of Father Cappel. He attended St. Matthew's grade school in Norwood and graduated from St. Mary's high school in Cincinnati in 1927. He attended the University of Dayton in Ohio for two years before beginning studies to be a Cincinnati diocesan priest at St. Gregory's Seminary. He entered Maryknoll in September 1931 and was ordained on June 16, 1935.
After ordination Father Cappel was assigned to Masan and then to Chinnampo Mission, Peng Yang, North Korea, and in 1937 transferred to the Chu Ko Chin Mission, in a mountainous area near the Yalu River. In 1941, he was interned by the Japanese and returned to the United States. The following year, he was assigned to Chillan, Chile, and appointed Group Superior for the Region. In 1944, he was appointed second assistant to the Society Superior, and pastor of Parroquia San Vincente in Chillan.
In 1947, he served for a year in the United States as assistant spiritual director at Maryknoll Seminary in Ossining, New York, returning to Chile in 1948, as assistant pastor of the Catholic parish in Temuco. In 1949, he was made pastor of Parroquia De Nuestra Senora Del Rosario in Curepto, an extensive parish with a grade school an asylum and five mission chapels. Thirteen more chapels have developed since he first went there. Father Cappel continued to serve in that parish until his death.
Wake and funeral services were held on June 2, 2004 in Curepto, Chile. The Mass was held in the Plaza due to the great number of people in attendance. Bishop Carmen Valenzuela Abarca, Bishop of Talca presided and forty priests concelebrating. About 3,500 people attended the Mass and the funeral procession to the cemetery in Curepto. A Memorial Mass was celebrated on June 9, 2004, in Queen of Apostles Chapel, Maryknoll, New York. Fr. Charles Cappel was Principal Celebrant and homilist.