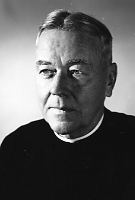 Father Joseph H. Cassidy, MM
Born: August 30, 1893
Ordained: March 22, 1918
Died: June 9, 1961
Joseph H. Cassidy was born in Millis, Massachusetts on August 30, 1893. He studied at Holy Cross College and then entered St. John's Seminary in Brighton to study for the Archdiocese of Boston. As a Holy Cross student, he was the first young man to write to Father James A. Walsh about becoming a missioner. He was ordained on March 22, 1918.
After engaging in parish work in Boston, he renewed his petition to join Maryknoll. This was finally granted by Cardinal O'Connell and in July, 1921 he was accepted as a priest aspirant for the Society.
Father Cassidy was assigned to Korea in 1924 after two years of successful promotion work in San Francisco. In 1928 he was transferred to Hawaii and then returned to the States the next year. Endowed with an exceptionally fine preaching voice and very interested in sermon preparation, he found himself much sought after for special preaching assignments, retreats to priests, missions and novenas. At the same time he was engaged in promotion work. His sermon outlines appeared in the Homiletic and Pastoral Review for one Lenten period and he preached a series of sermons at St. Patrick's Cathedral.
From 1935 to 1938 he was Professor of Homiletics at the major seminary. In December of 1958 he was assigned to the Detroit promotion house.
He had not been in good health in the weeks prior to his death and had gone to his home in Millis, Massachusetts for a few weeks of rest. On June 9, 1961 he died there. The funeral was held at Maryknoll on June 13, 1961.