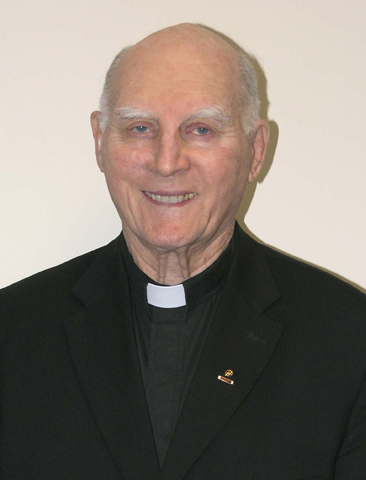 Father Joseph J. McGahren, MM
Born: April 8, 1925
Ordained: June 9, 1951
Died: April 1, 2018
Father Joseph J. McGahren died on April 1, 2018 at Mission St. Teresa's.  He was 92 years old and a Maryknoll Priest for 66 years.
Joseph James McGahren was born in New York City on April 8, 1925, the only child of Joseph P. and Marie Comerford McGahren.  He attended All Saints Elementary School and graduated from Ignatius Rice High School in New York City.  Fr. Joseph entered the Maryknoll Society on August 1, 1942 at Maryknoll Junior Seminary, Clarks Summit, PA.  He received a Bachelor of Arts degree in Philosophy and a Master's degree in Religious Education at Maryknoll Seminary, New York.
On June 9, 1951, Fr. McGahren was ordained at Maryknoll Seminary.  His first assignment was as a vocation director for Maryknoll for four years.  In August 1955, he sailed to his overseas mission assignment in Japan where he served for three years.  From 1958 to 1959, he served in Hawaii, and in 1959, worked as a contract chaplain for Greenland Contractors at the Air Base in Thule, Greenland.  Upon completion of this assignment, he entered the United States Air Force on April 11, 1960.
Fr. McGahren's military assignments were many, serving in the United States as well as overseas.  His last post was as Command Chaplain, AF Systems Command at Andrews Air Force Base, MD.  His military decorations included the Legion of Merit, the Bronze Star, the Meritorious Service Medal with three oak leaf clusters, and the Vietnam Honor Medal.  He attained the rank of Colonel on May 6, 1978 and retired from the Air Force on August 1, 1985.
In September 1985, Fr. McGahren returned to mission in Japan.  He served there for three years, and then was reassigned to the United States Region and the Development Department to work in South Orange, NJ.  He also served as Director of the Philadelphia Development House for five years.  From 1997 to 1999 he served as Director of the Denver Development House, and then spent a year in Jacksonville, FL working with the school programs.  Although Fr. McGahren was granted retired status in January 2001, he continued to help out in the Mission Promotion Department at Maryknoll.  While residing at the Maryknoll Center, Father McGahren served as guestmaster to families coming for wake and funeral services for Maryknollers who had died. In June 2013 Father McGahren was assigned to the Senior Missioner Community and moved to Mission St. Teresa's.  He celebrated his 65th Jubilee as a Maryknoll Priest in 2016.
A Rosary and wake service was held at 4:00 p.m. on April 10, 2018 at Mission St. Teresa's.  The Rite of Reception took place at the Maryknoll Society Center at 9:30 a.m. on April 11, 2018.  Father McGahren's family received condolences and prayers in the Lady Chapel until 10:45 a.m.  The biography was read by Father Regis Ging.  Mass of Christian Burial followed at 11:00 a.m. and was concelebrated in Queen of Apostles Chapel.  Father Kevin Hanlon was Principal Celebrant and homilist.  Burial followed in Maryknoll Society Cemetery with Father Hanlon conducting the graveside service.