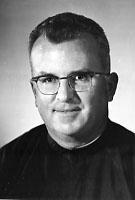 Father Joseph J. O'Neill, MM
Born: December 25, 1919
Ordained: June 11, 1949
Died: April 22, 2011
Father O'Neill died on Good Friday, April 22, 2011 at Phelps Memorial Hospital, Sleepy Hollow, New York. He was 91 years old and a Maryknoll priest for 61 years.
Joseph James O'Neill, one of six children, was born in Brooklyn, New York, on December 25, 1919, son of Patrick Vincent and Margaret McGuire O'Neill. As a youngster he attended Presentation Grade School in Jamaica, Long Island and graduated from Jamaica High School in 1937. He studied for two years at New York University in New York City and entered Maryknoll Apostolic College (Scranton, PA) on September 1, 1939. He was ordained at Maryknoll, New York on June 11, 1949.
After ordination Father O'Neill was assigned to the Pando Vicariate in the Bolivia Region and remained in Riberalta serving the villages along the Beni River until May 28, 1956. After that he was assigned to Development work first in Chicago in 1957 and then as Promotion Director in the new Denver House, Colorado in 1958. Finally, in 1960 he became Director of the New York City Development House and during this time was appointed Chapter Delegate for the United States Region and attended the 1966 General Chapter.
Following the General Chapter, Father O'Neill was assigned to establish the new Parish, 'La Resurreccion', located in Caracas, in Maryknoll's Mission Unit in Venezuela, where he served for ten years, July 1, 1967 to August 1, 1977. During that time he served as Second Consultor to the Regional Superior. Once again he was recalled to the United States to serve as founder of the Development House in the Washington, D.C. area. On October 1, 1981 he was appointed Procurator General of the Maryknoll Society in Rome, Italy, where he served both the Society and the missions throughout the world. Father O'Neill remained in this assignment for three terms and, while stationed in Rome, also served as the Director of the Rome Office of the Pontifical Mission for Palestine with Offices in the Vatican. For a period of nine years Father O'Neill engaged in work that offered humanitarian and pastoral support to the Churches and the people of Palestine and the Holy Land.
Returning to the United States in 1990, Father O'Neill was appointed to be one of the three secretaries for the 1990 General Chapter. In February 1991 he was appointed Assistant Administrator of the Maryknoll Residence for retired priests and brothers located in Los Altos, California. In 1995 he was invested into the Equestrian Order of the Holy Sepulcher of Jerusalem.
In May 1997 he was assigned to the Retirement Community at Los Altos, California where he served as Auxiliary Chaplain at Moffett Field Chapel in Sunnyvale, California. Enjoying retirement, he spent much of his time sailing his boat, PORFIN, on beautiful San Francisco Bay. Health problems necessitated his move to St. Teresa's Residence in February 2006.
Wake services were held at 4:30 p.m. on April 26, 2011 at St. Teresa's, and at 7:30 p.m. in Queen of Apostles Chapel at Maryknoll Center where Father William Coy officiated and Father Thomas Ahearn read the biography. Mass of Christian Burial was concelebrated in Queen of Apostles Chapel on April 27, 2011 at 11:00 a.m. Father Robert Lefebvre was Principal Celebrant and Father Wayman Deasy homilist. Burial followed in Maryknoll Society Cemetery with Father Thomas McDonnell conducting the graveside service.