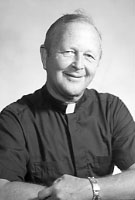 Father Joseph J. Rickert, MM
Born: January 16, 1917
Ordained: February 7, 1943
Died: November 22, 1996
Father Joseph Rickert died at 3:25 p.m. on Friday, November 22, 1996, at St. Teresa's Residence, Maryknoll, New York. Father Rickert was 79 years old and a Maryknoll priest for 53 years.
Joseph was born on January 16, 1917, in Brooklyn, New York, son of Joseph J. and Loretta Madigan Rickert. He had one brother, Father Eugene Rickert, who was an Oblate of St. Francis de Sales, and one sister. He attended St. Bernard Parochial School in Brooklyn and graduated from St. Francis Preparatory School in 1933. He graduated from Fordham University in June 1937 with a Bachelor of Arts degree. Joseph entered Maryknoll Novitiate in Bedford, Massachusetts, on September 7, 1937, and was ordained a priest at Maryknoll Seminary in Ossining, New York, on February 7, 1943.
Young Joseph Rickert had very early connections with Maryknoll. His aunt, known by many Maryknollers as 'Aunt Mary,' was Sister Therese Marie, M.M. An uncle, Father A. M. Rickert of the Diocese of Brooklyn, New York, was a classmate of Maryknoll Bishop Francis X. Ford. While Joseph had thought of the priesthood and mission off and on as a youth, it was the influence of Father John Martin, M.M. that finally led him to his decision to join the Maryknoll Society.
Father Rickert had a varied career in Maryknoll, serving many years both in overseas mission and in Society Service in the United States. His initial assignment after ordination was to the new Maryknoll Mission in Chile, South America. However, this assignment was changed to Puno, Peru, before his departure to South America. After language studies, he served as Pastor of the parish in the town of Macusani in the Andes mountain range of Peru at an altitude of 15,000 feet. After two years there, he was transferred out of the high altitude for medical reasons to his original assignment in the Maryknoll Mission in Chile, which is at sea level.
He first lived with a Chilean pastor and thus gained a good command of the Spanish language and knowledge of the local customs and people. In 1944, he became Assistant Pastor of the Maryknoll parish in Curepto. He opened four mission stations in neighboring villages and opened a parish school in Curepto. In 1949, he was named Pastor of San Vicente Parish in Chillan, Chile.
In 1950, when it was expected that response to Christian evangelization in Japan would increase after the war, Father Rickert was assigned to the Maryknoll Mission in Japan. After a year of study of the Japanese language, however, he retumed to the United States and was assigned to the Maryknoll Mission in Huehuetenango, Guatemala. He remained in Guatemala for 16 years doing pastoral and medical work with the indigenous. He was first appointed Assistant Pastor of Nuestra Seniora de Candelaria Parish in the town of Chiantla. In 1954, he was appointed Pastor of the mission parishes in San Mateo and Barrillas. In 1957, he became Pastor of the parish in Soloma. After a Home Leave in 1959, he was named pastor of San Pedro Necta Parish where, among other apostolic and socio-economic works, he oversaw the building a small hospital and a residence for doctors under the sponsorship of the Catholic Physicians Guild of the Diocese of Rockville Centre, Long Island.
In April 1968, Father Rickert advised his Regional Superior that he would be willing to do Development work in the United States if it was felt that his services would be helpful to the Department and the Society. Thus, while on Home Leave in May of that same year, Father Rickert was assigned to the Development Department, to begin work at the Maryknoll Development House in Cincinnati, Ohio, on July 1st. On June 1, 1973, he was appointed Co-Director of the New York City Development House. In November 1974, he opened the first Society Development House on Long Island, New York, in Garden City. In January 1981, he was appointed Director of the Maryknoll Priest/Brother Associate Program which was under the aegis of the Development Department at that time.
In 1982, Father Rickert participated in the three-month Maryknoll Spiritual Renewal Program in Jerusalem, Israel. After completing that program, he was assigned to the Maryknoll Mission Region in Mexico in January 1983 where he was named Assistant Pastor at Maria Madre de Ia Iglesia Parish in Unidad I, Mexico City. His last assignment was as Pastor of Sagrada Familia Parish in Cuemavaca, Mexico.
At his own request, Father Rickert was enrolled in the Special Society Unit on January 1, 1988, with continued residence and limited ministry in Cuernavaca. In 1993, he took up residence at Maryknoll Residence, Los Altos, California. Due to failing health, Father Rickert was transferred to St. Teresa's Residence at Maryknoll, New York, on June 18, 1996.
Father Rickert was well-known to many New York area priests and had numerous friends among them, especially on Long Island. He was known for his engaging personality and sense of humor. With the twinkle of Irish wit in his eye, he was always ready with a keen observation on any situation.
Wake Services were held on Monday, November 25, at 7:00 p.m. in St. Teresa's Residence Chapel and at 7:30 in Queen of Apostles Chapel, Maryknoll Center, where Father Joseph LaMar officiated. Mass of Christian Burial was concelebrated in Queen of Apostles Chapel at 11:00 a.m. on Tuesday, November 26, with Father James Scanlon as Principal Celebrant and . Father Robert Carleton as homilist. Following the Mass, graveside services in Maryknoll Center Cemetery were conducted by Father Stephen Judd.