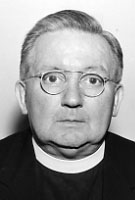 Father Joseph J. Shields, MM
Born: August 23, 1891
Ordained: June 15, 1924
Died: November 3, 1964
Joseph J. Shields was born August 23, 1891 in Catasauqua, near Allentown, Pennsylvania. His family moved to Philadelphia where he attended St. Edward's parochial school until he was twelve years old when he went to work because his father had been crippled in an accident. Joseph worked until he was twenty when, in September 1912, he entered St. Mary's Preparatory Seminary in Emmitsburg, Maryland. But he had to discontinue in the first semester due to poor health. However, he was determined to get an education and the following year was admitted to St. Joseph's Prep in Philadelphia, graduating in 1916. He continued his education under the Jesuit Fathers, whom he had always admired, by entering St. Joseph's College, graduating in 1920 with a B.A. degree. The following September he took the first steps to the missionary priesthood by starting classes at Maryknoll that same year.
The years of Theology went by quickly and he was ready for ordination on June 15, 1924. His first years as a Maryknoller were spent on the road, raising funds and searching out vocations. In 1930 he started working in the Brooklyn Diocese, helping out in various parishes, with a view to eventual incardination. However, in 1936 he took up his work with Maryknoll again and was assigned to Los Angeles. But he was soon recalled to the Center to resume promotional work. From here he was transferred to the San Juan Bautista Mission. Father Joe continued at San Juan until 1941 when he was assigned to the Venard and acted as chaplain to the Good Shepherd Convent until July, 1945. From then on he was at the Center in various capacities.
During this time his health began to deteriorate. Despite his increasing infirmities, he kept his jovial disposition. However his illnesses became so serious that on October 14, 1964 he had to undergo medical treatment. On the evening of November 2nd his condition became increasingly worse and he was anointed. On the following day passed away at Phelps Memorial Hospital. Funeral and burial were at Maryknoll on November 5th.