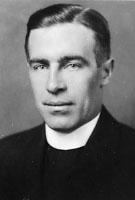 Father Joseph M. Reardon, MM
Born: August 12, 1907
Ordained: June 14, 1938
Died: January 23, 1959
Father Joseph M. Reardon was born in South Boston, Massachusetts, on August 12, 1907. He was graduated from Mechanic Arts High School in 1925 and after working for a year entered the Venard in 1926. Studies did not come easy for him but he had a great determination and a deep conviction that he was being called to follow Christ in the missionary priesthood and this carried him through the difficult periods. He was ordained at Maryknoll on June 14, 1938.
His first assignment was to the Kaying Vicariate in South China. In December of 1941 he was interned by Japanese in Hong Kong, where he was recuperating from an illness. The following year he was repatriated and arrived in New York on August 31, 1942. Father Reardon was then assigned to Chile but further illness necessitated his move to the Maryknoll Sisters' Sanatorium in Monrovia early in 1943. After a year's stay there he recovered well enough to be given an assignment as chaplain at St. Catherine's Military Academy in Anaheim, California, where he remained for two years.
When the new junior seminary was opened at Akron in 1946 he was assigned there and after the seminary was changed to the Brothers' Novitiate in 1947, Father Reardon was named Assistant Director. In 1951, when the Brothers' Novitiate was transferred to Brookline, he went there and continued as Assistant Director until his death.
Father Reardon passed away quietly in his sleep at the Brookline Brothers' Novitiate on January 23, 1959.
The funeral was held on January 26th at his home parish, St. Hugh's in Dorchester. Burial took place at Maryknoll on January 29, 1959.