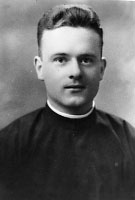 Father Joseph P. Gibbons, MM
Born: September 21, 1907
Ordained: June 11, 1933
Died: June 20, 1971
Joseph P. Gibbons was born in New York City on September 21, 1907. Graduating from Xavier High School in 1925, he was admitted to the Venard a few months later. He was ordained to the priesthood on June 11, 1933 and assigned to Peng Yang, Korea.
In 1942 he returned to the United States on the Gripsholm and took up work in Hawaii in 1944. He was brought back to the mainland again and worked in the Maryknoll houses at Brookline, Buffalo and Glen Ellyn.
Father Gibbons returned to Korea in 1953 and held many responsible positions for many years, including that of Regional Vicar and Vicar General of Inchon.
In early 1971 he returned to the United States on sick leave. Father died on June 20, 1971 at Phelps Memorial Hospital.
The funeral Mass was offered at Maryknoll, followed by burial in our cemetery. Father Thomas Killackey was the principal celebrant.