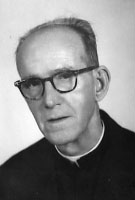 Father Joseph P. McCormack, MM
Born: August 5, 1893
Entered: June 15, 1924
Died: January 8, 1974
Joseph P. McCormack was born in Ballaghadereen, County Roscommon, Ireland on August 5, 1893. After early studies in Ireland, he worked in Ireland and England and came to the U.S. in 1915. He went to night school at St. Peter's College in Jersey City from 1915 to 1916 and at Cathedral College in New York from 1916 to 1918.
Entering Maryknoll in 1918, he became a citizen and was ordained June 15, 1924. He was assigned to Fushun, appointed Local Superior there in 1929 and Society Superior in 1930. He attended the Second General Chapter in Hong Kong in 1936 as Society Superior for the Fushun Mission. Interned at Fushun at the outbreak of war in 1941, he was repatriated aboard the Gripsholm in August, 1942. He worked in the area of Temuco, Chile from 1943 to 1945 and returned to Manchuria in 1946. The Chinese Communist advance forced him to move from Fushun to Peking to Shanghai in 1949. Arrested in Shanghai, he was finally released in June, 1958 and returned to the United States. Failing health and advancing years brought him back again to the States, after working at the Chinese Mission in Inchon, Korea from 1960 to 1969. He was assigned to St. Teresa's Residence in 1970.
Throughout his varied and at times very difficult missionary apostolate he retained his fine Irish sense of humor. He would close letters with such greetings as: "God be with you mornin, noon and night." His work in the 1960's at the Chinese Mission in Inchon was described as "one of the finest examples of Christian witness in all of Korea."
A Vigil service was held for Father McCormack on January 9th at the Maryknoll Chapel. Mass of the Resurrection was concelebrated on the 10th, with Father McCormack's 1924 classmate, Father Thomas V. Kiernan, as principal concelebrant, Father William O'Leary as homilist and Bishop John Comber giving the absolution. Burial followed at Maryknoll Cemetery.