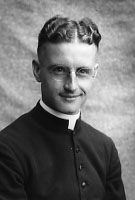 Father Joseph P. Ryan, MM
Born: April 28, 1901
Ordained: June 19, 1927
Died: November 9, 1953
Joseph P. Ryan, one of six children, was born in Worcester, Massachusetts on April 28, 1901. He entered the Venard in September, 1918 and took his studies in Philosophy and the first three years of Theology at Maryknoll. His fourth year of Theology was at the Catholic University in Washington, D.C. He was ordained June 19, 1927 and assigned to the Center for procuratorial and allied duties.
In August, 1928 he was missioned to Wuchow which he administered some five years later during the absence of the Prefect. In 1935 he returned to the States to fill various offices such as Econome, Mission  Procurator and Director of the Brothers, while interesting himself at the same time in contacts with Oriental students and with Chinese generally in New York City. In May of 1937 he was sent to Rome for advanced studies in Church History but poor health necessitated his recall to the States in February, 1939. After a year as Vice-Rector of the Venard he was transferred in 1941 to the faculty of the major seminary where he taught until his death. His subjects were Ecclesiastical History, Patrology and Missiology. For most of his years at Maryknoll he was a member of the Seminary Council.
There was nothing to indicate that Fr. Ryan's health was so bad that death was impending.  At the tolling of the bell on the day of his death, the community gathered at the Chapel for the recitation of the Rosary.
Father Joseph Meaney celebrated the Mass on November 12th, 1953, assisted by Fr. Churchill as Deacon and Fr. Driscoll as Subdeacon. Fr. Thomas Ray preached the sermon. All four were classmates of Father Ryan. Burial was at Maryknoll.