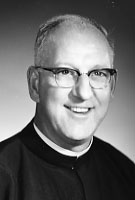 Father Joseph P. Trainor, MM
Born: December 3, 1922
Ordained: June 10, 1950
Died: March 28, 1997
Father Joseph Patrick Trainor died in the early morning of Good Friday, March 28, 1997 at St. Mary's of Assumption Parish, Brookline, Massachusetts. He was 74 years of age and a Maryknoll priest for 46 years.
Joseph Patrick Trainor was born on December 3,1922 in South Boston, Massachusetts, one of eleven children of Michael Andrew and Helen (Jennings) Trainor. He had six brothers: Michael, Robert, James, (Joe's twin), Leo, John, William; and four sisters: Catherine, Mary, Helen and Ann. He grew up in his large, happy Catholic family where there was lots of fun, and everyone had a job as early as possible. As an altar boy in St. Peter's Church he was strongly attracted to being a priest. He attended St. Peter's parochial school in Dorchester and graduated from Boston College High School in June 1941.
Joseph wrote in his autobiography in 1941 what attracted him to Maryknoll. He wrote "In January of 1941 a missioner came to talk to us. He came from a place called Maryknoll. I never heard of the place before this but thereafter the name was in my mind and heart. The Maryknoll priest gave a good talk on vocation to foreign mission – China specifically. I listened, all ears. The talk added a little more fire to what flame was still in me…That summer I wrote to Father General at Maryknoll. I wanted to be a missioner…I was informed that I could start at the Venard in September and that September I was in Maryknoll. How can I thank Almighty God for all this? He certainly has been wonderful to me."
Joseph entered Maryknoll Apostolic College (Venard), Clarks Summit, Pennsylvania, in September 1941. He received his Bachelor of Philosophy degree at Maryknoll Major Seminary in Ossining, New York, in June 1945. He was ordained a priest at Maryknoll Seminary, in New York on June 10, 1950.
After ordination Father Trainor was assigned to the Promotion Department and served in the Promotion Houses in San Francisco, St. Louis, and Brookline. In April 1954 he was appointed Director of the Promotion House in New Orleans for a period of three years. In his first six years of promotion work he became a good promoter, well liked, sociable and a good influence on everyone around him. The Superior General commended him as follows: "You have done very faithful and successful work in promotion and I wish to assure you of our sincere appreciation for the manner in which you have discharged your responsibilities."
On April 9, 1957, Father Trainor received his first foreign mission assignment to the Maryknoll Mission in Musoma, Tanzania, East Africa. After Luo language and cultural studies he was appointed assistant pastor in Nyarambo among the Luo people. His Superior wrote of him: "Father Trainor is a very good missioner. Zealous and hard worker. Generous with his time. Likes the people and is liked by them. Very kind to them. Affable and likes companionship. His humor has carried him through some difficulty situations. He is outspoken, but humble and will take suggestions." In July of 1963 while on home furlough Father Trainor was appointed Director of the Detroit Promotion House for a term of three years.
On March 10, 1967, Father Trainor was reassigned to the Maryknoll Mission Region in Tanzania effective July 1, 1967. After studying Kiswahili language, he was appointed pastor of the Nyegina Mission in the Musoma Diocese. It was a time of great poverty, and Father Trainor is still remembered in Nyegina for his tremendous love and generosity toward the people whom he was serving. The pastor who succeeded him in the mission in January 1974 wrote of him: "I miss Joe Trainor as guide and good companion. Like very many, I have a great debt to him." While on home furlough in 1974 he helped out in various Development Houses for a few months. Then, effective September 1, 1974 he was again assigned to the Development Department and began work in the Chestnut Hill House near Boston. His Superior wrote: "Joe Trainor has done a superb job for us at Chestnut Hill. He has been most cooperative to handle any type of job that we have given him." On October 7, 1974 he was moved to the new Development House in Garden City, Long Island. On July 1, 1976 Father Trainor was appointed Director of the Denver House and then on July 1, 1978 he was transferred to the Chicago Development House for another three year term.
Effective September 15, 1980 Father Trainor was again assigned to the Maryknoll Mission Region in Kenya, East Africa. He served as assistant pastor of the new Mission in Mombasa. He served for one term as Director of the Society House in Nairobi. When he was Associate Pastor in Umoja Parish in Nairobi at his own request he was formally enrolled in the Special Society Unit effective December 1, 1991. In January 1991 he returned home and took up residence at St. Mary of the Assumption Parish in Brookline, Massachusetts. In December 1992 he underwent medical treatment.
A Wake Service was held at St Mary's of the Assumption Parish, Brookline, Massachusetts on April 1, 1997, 4:00 – 8:00 p.m. Funeral Mass was concelebrated at St. Mary's of the Assumption Parish, Brookline, Massachuetts on April 3, 1997, at 10:00 a.m. Principal Celebrant was Fr. John Ahearn, Pastor. Wake Services were held at 7:00 p.m. on April 3. 1997, at St Teresa's Residence Chapel, and at 7:30 p.m.at Queen of Apostles Chapel at Maryknoll Center. Mass of Christian Burial was concelebrated at Queen of Apostles Chapel on April 4,1997 at 11:00 a.m.. Fr. William T. Madden was Principal Celebrant and Fr. Edward M. Wroblewski was homilist. Burial followed at Maryknoll Center Cemetery.