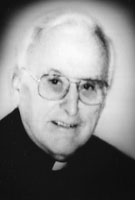 Father Joseph Pulaski, MM
Born: October 11, 1919
Ordained: June 15, 1947
Died: November 8, 2013
Father Joseph S. Pulaski died on November 8, 2013 at St. Teresa's Residence. He was 94 years old and a Maryknoll priest for 66 years.
Joseph Stanley Pulaski was born in Meriden, Connecticut, on October 11, 1919. He was the son of Joseph and Mary Ann Banaszewski Pulaski and came from a family of seven boys and six girls. He attended St. Stanislaus Catholic Grammar School and Meriden High School. After high school he went to the Diocesan seminary, St. Thomas, in Bloomfield, Connecticut, for two years. He applied to Maryknoll and entered Maryknoll Apostolic College (Venard), Clarks Summit, Pennsylvania in September 1940.
Father Pulaski was ordained at Maryknoll, New York, on June 15, 1947, and his first mission assignment was to Kongmoon, China. After studying the Cantonese language, he became Assistant Pastor at Our Lady of Lourdes Parish, which administered an institute for the blind and an orphanage housing more than 70 children. In 1949 Chinese Communist troops took over the area and within two years expelled the Maryknoll missioners from the country.
In 1951 after the Communists took over the Chinese government, Father Pulaski was expelled and returned to the United States. For a short time, he worked at Holy Spirit Church in Perth Amboy, New Jersey. Then he was assigned to Development work in St. Louis, Missouri. In the summer of 1953 he was assigned overseas to the Japan Region where he worked for twenty-one years in various parish assignments. One of his appointments while in Japan was as Chaplain of the Kusatsu Hospital, a position he held from 1968 to 1974, when he was assigned to the Hawaii Region. There Father Pulaski was assigned to Immaculate Conception Parish in Holualoa, where he served until 1983.
In December 1983 Father Pulaski returned to the United States to care for his family in Meriden, Connecticut. He was assigned to the Special Society Unit in December 1985 and to the Retirement Community in February 2001. While residing in Meriden, Father Pulaski occasionally helped out in the local parishes and visited the sick. He moved to Mission St. Teresa's in April 2013.
Father Pulaski said at his 65th Jubilee, "Our work is the work of God to help all mankind to love God and one another. I am a very happy man – very close and united with God, Mary, with Maryknoll and with all that is Roman Catholic."
Wake services were held on November 13 2013 at St. Stanislaus Roman Catholic Church in Meriden CT and Mass of Christian Burial was celebrated at St. Stanislaus on November 14, 2013, with Father Edward Wroblewski, M.M. as celebrant and Father Robert Reiley, M.M. as homilist. Burial was in St. Stanislaus Roman Catholic Cemetery in Meriden, CT. A Memorial Mass was held at Maryknoll, New York.