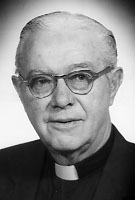 Father Joseph R. English, MM
Born: December 23, 1915
Ordained: June 11, 1944
Died: January 1, 2005
Father Joseph Robert English died on January 1, 2005 at St. Teresa's Residence, Maryknoll, New York. He was 89 years old and a Maryknoll priest for 60 years.
Joseph Robert English was born in Newburgh, New York, December 23, 1915, son of James J. and Margaret Finan English. He attended Newburgh Public Schools for three years, St. Patrick's parish school for five and then went on to Newburgh Free Academy for four years. He attended Notre Dame University, in South Bend, Indiana and graduated in June 1937 with a Bachelor of Philosophy degree. He was a life-long fan of the Notre Dame football team. In summer months, he was a Camp Counselor in Camp Wapanachki at Mt. Tremper near Windham, New York.
He entered Maryknoll at the Venard on September 7, 1937, spending two years in Special Latin, and in 1939 went to Bedford, and then to Theology at Maryknoll. Father English was ordained June 11, 1944. He was the best pitcher Maryknoll ever had, losing only one game, his last one, and that because there was no hitting.
After ordination, Father English did Promotion work for three years and was based in the New York City House. On April 29, 1947, he began as Promotion Director at Bedford, Massachusetts and in 1948 went back to New York as head of the house and stayed there until 1954.
After his Promotion work, Father English requested a mission assignment and was assigned to the Chile Region on April 20, 1954. After language and cultural studies in Cochabamba, he served as Assistant Director to Father Thomas Wynne at the Leo XIII Institute in Talca, Chile. His next assignment was in Asuncion Parish, Huachipato with Father Mel Cowan. In 1956, he was appointed Pastor of Santo Tomds Parish in Temuco where he remained until 1960. He became Pastor of the Parroquia San Juan de Dios in Buzeta, an impoverished section of Santiago, and in 1965 returned to Talc a as Pastor of Nuestra Seliora de Fdtima. In 1970, he spent two years as Pastor of San Miguel Arcangel in Licanten, after which he became Pastor of Nuestra Sefiora del Rosario in Curepto where he continued with Father Joseph Cappel until 1994 when he came to the United States for his 50th anniversary.
In 1994, Father English entered retirement and returned to Chile. During his many years of mission in Chile, Father English devoted much time and effort in forming groups of the Legion of Mary in the parishes that he served in southern Chile. In 1997, he joined the Retirement Community residing at St. Teresa's.
Wake services were held at 4:30 p.m. on January 4, 2005 at St. Teresa's, with Father John Hudert officiating, and at 7:30 p.m. in Queen of Apostles Chapel at Maryknoll Center where Father Charles Cappel officiated and Brother Donald Miriani read the biography. Mass of Christian Burial was concelebrated in Queen of Apostles Chapel on January 5, 2005 at 11:00 a.m. Father Ernest Lukaschek was Principal Celebrant and Father Thomas McDonnell homilist. Burial followed in Maryknoll Society Cemetery with Father Francis McGourn conducting the graveside service.