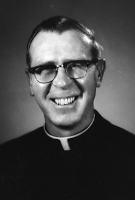 Father Joseph R. Kane, MM
Born: February 11, 1925
Ordained: June 14, 1952
Died: January 11, 1996
Father Joseph R. Kane died at Phelps Hospital, Tarrytown, New York in the early morning of January 11, 1996. Joseph was born in New York City on February 11, 1925, son of Francis Kane and Katharine Feurer. He had a brother and two sisters, one of whom is Maryknoll Sister Rosemary Kane. Father Kane was a Maryknoll priest for forty-three years. He spent most of those years in Bolivia.
In 1928 his family moved to Rockville Centre, L.I., where he attended St. Agnes Parochial School, Rockville Centre and Regis High School in New York City. He entered Maryknoll Junior Seminary, Akron, Ohio, on February 23, 1943, and went to Maryknoll Apostolic College (Venard), Clarks Summit, Pennsylvania on September 3, 1943. In 1945 he began his philosophical and theological studies at Maryknoll Seminary, New York. He received his Bachelor of Arts degree in Philosophy and was ordained a priest at Maryknoll Seminary, New York on June 14, 1952.
After ordination, Father Kane was assigned to the Maryknoll Development Department and served in the St. Louis area for three years. He was then placed in charge of the Brooklyn, New York area for Development work for one year and in 1956 he was appointed Director of the Venard Development Office in Pennsylvania.
On April 21, 1959, Father Kane was assigned to the Maryknoll Mission in Bolivia, South America. After an eight-week Spanish course at the Catholic University in Puerto Rico, he completed his language studies at the Maryknoll Language School in Cochabamba, Bolivia. Father Joe was appointed Assistant Pastor of the Parish in Cotoca, Santa Cruz and was appointed Pastor in 1962. On April 30, 1965, he was recalled to the United States and assigned to promotion work in New York City for one year. Upon his return to Bolivia in May of 1966, Father was appointed Pastor of San Roque Parish, a large city parish in Santa Cruz, where he served until his home leave in 1977. The San Roque Rectory was also the Center House for Maryknollers in Santa Cruz area, so Father Joe also served as a wonderful host and guest master.In addition, he taught English at the Diocesan Minor Seminary and was appointed by the Archbishop as Chaplain for the Traffic Police in Santa Cruz. His Regional Superior Father Leo Sommer said, "Joe did a lot of good for these policemen and their families. He was a Maryknoller who did his work. He did it well and quietly. He was a steady missioner". On his return to Bolivia after his 1977 home leave, he was assigned to Barrio Braniff, a large poor neighborhood of Santa Cruz and he continued his work as Chaplain. He had a special gift for youth ministry among the Bolivian poor. His sister Rosemary commented, "Joe was very good to the poor. He lived the vow of poverty. He had no frills or extras, and often the rectory was filled with young people." As an added duty Father James Noonan, Superior General appointed Joe 2nd Assistant to the Maryknoll Superior of the Bolivia Region. Father Noonan wrote, "I would like to take this opportunity not only to thank you for your willingness to serve on the Regional Council, but also for the innumerable ways that you have served mission and Maryknoll over the many years since your ordination both here in the United States and in Bolivia." Father, as pastor, remained active in the parish ministry in Barrio Braniff until his failing health forced him to return to the United States in June 1994. Father Kane joined the Special Society Unit December 1, 1994 with residence at St. Teresa's, where he remained until his death.
Wake Services will be held on January 14, 1996 at St. Teresa's Residence Chapel at 7:00 p.m. and at the Queen of Apostles Chapel at the Maryknoll Center, New York, at 7:30 p.m. Mass of Christian Burial will be concelebrated on January 15, in Queen of Apostles Chapel at 11:30 a.m. The Principal Celebrant will be Fr. Joseph W. Towle, M.M. and the Homilist will be Fr. Gerald J. Persha, M.M. Interment will follow at the Maryknoll Cemetery.