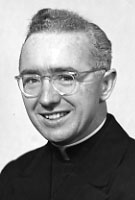 Father Joseph S. Smith, MM
Born: February 10, 1923
Ordained: June 9, 1951
Died: October 15, 2001
Father Joseph S. Smith died on Monday, October 15, 2001 at St. Teresa's Residence, Maryknoll, New York. He was 78 years old and a Maryknoll priest for 50 years.
Joseph Sylvester Smith was born in Lowell, Massachusetts on February 10, 1923, son of Philip and Anna Gillick Smith. Joseph had eight brothers and two sisters. One of his brothers is Archbishop Philip F. Smith, O.M.I.
Joseph attended the Immaculate Conception Grammar School staffed by the Grey Nuns of the Sacred Heart and graduated from the Xaverian Brothers' Keith Academy in Lowell, Massachusetts.
Upon graduation, Joseph began working as a typist for the Maryknoll Development Department at the novitiate in Bedford, Massachusetts. After two years, on August 23, 1942, he entered the Maryknoll Junior Seminary (Venard) in Clarks Summit, Pennsylvania. Father Joseph Smith was ordained a priest at Maryknoll Seminary in New York on June 9, 1951.
After ordination Father Smith began his mission career in the Maryknoll Mission Region in Chile, South America and served in that Region for twenty-nine years. During his years in Chile both parish ministiy and education of the young were central to his missionary life among the people. He spent many years building up the school, faculty and student body of Escuela #18. Father Smith was concerned deeply for the students. He wanted to always make sure that the students received a good education to face the future as well as a deep faith and prayer life as future lay leaders in the various Christian communities. In 1974 he wrote in a letter to a friend back in the States "My concern is for the small children who sleep in the doorways of our port town. They go out in the mornings to beg. Many of these children have never gone to school. Many of the 150 children, who were counted living in doorways, were between the ages of 8 and 12. I decided I had to help these children. I opened a home run by lay people and Sisters. This is a very important project in my parish to help keep the children off the streets and give them hope and a good education."
On January 1, 1980 Father Smith came home to take an assignment in the Development Department, and he worked in Boston for five years. While serving in the Development Department he decided to look into becoming a psychological counselor. He studied for three years at the Worcester Pastoral Counseling Center and served as a counselor in his home parish of St. John the Evangelist in North Chelmsford, Massachusetts. Besides counseling, Father Smith's duties included a course for the divorced and separated, and a course offered for young couples in the Marriage Enrichment Program.
On February 1, 1989 at the age of 66 he was enrolled in the Special Society Unit and for many years he enjoyed his semi-retirement program, living and engaged in pastoral service in his home parish of St. John the Evangelist, North Chelmsford. In 1998 Father Smith came to live in St. Teresa's.
Wake services were held at St. Teresa's on October 21, 2001 at 7:00 p.m. where Father Thomas Wilcox officiated and at 7:30 p.m. at Queen of Apostles Chapel at Maryknoll Center where Father Arthur Dwyer officiated and Brother Kevin Dargan read the biography. Mass of Christian Burial was concelebrated at Queen of Apostles Chapel on October 22, 2001 at 11:00 a.m. Father Charles Huegelmeyer was Principal Celebrant and Father Joseph McGahren homilist. Burial followed at Maryknoll Center Cemetery with Father Thomas Henehan conducting the graveside service.