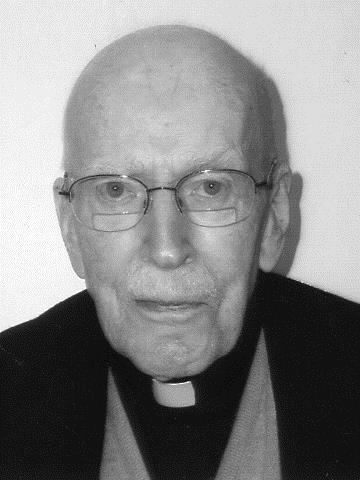 Father Joseph V. Maynard, MM
Born: March 23, 1919
Ordained: June 12, 1948
Died: February 3, 2015
Father Joseph V. Maynard died at St. Teresa's Residence on February 3, 2015. He was 95 years old and a Maryknoll priest for 66 years.
Joseph Vincent Maynard was born in San Francisco, California on March 23, 1919, one of seven children of Gustave and Ellen Finn Maynard. He graduated from St. Joseph's Boys School in San Francisco in 1935 and then entered Maryknoll at Los Altos, California in September of that year. Father Maynard was ordained on June 12, 1948 and assigned to the Japan Region.
After language studies, Father Maynard was assigned to the Otsu Parish near Kyoto, first as Curate and then as Pastor. In 1954 he was assigned to establish a new parish in Date in the Sapporo Diocese. Father remained there until 1964 when he was again assigned to establish a new parish in Tomakomai. The Nishimachi Parish was established in March 1965, with a new kindergarten and plans for a new church. In 1979 Father again moved and worked in the Shimizuzawa Parish in Yubari, Hokkaido. At Yubari he served as director of the Church-run Baby Home. When Father left Yubari in 1984, it ended a thirty-year presence of Maryknoll in that area. For a brief time, Father Maynard lived in Omotemachi in a parish in Tomakomai, Hokkaido before returning to the United States in April 1984. He took up residence in Danville, California (near San Francisco), doing limited pastoral work and in September 1984 was assigned to the Special Society Unit. In 1987 Father Maynard moved to the Maryknoll Residence in Los Altos, California. Between September 1987 and May 1994, he worked both in the United States and Japan. One of his superiors wrote a very simple fact regarding Father Maynard, "A thoroughly good priest, full of charity."
Father Maynard was given retired status in January 2001 and was assigned to the Retirement Community in September 2006. He remained at Los Altos until January 2009 when he moved to Mission St. Teresa's at Maryknoll, New York.
A Rosary and wake service were held at 4:00 p.m. on February 9, 2015 at St. Teresa's. The body was received at the Maryknoll Society Center at 9:15 a.m., February 10, 2015 with prayers in the Lady Chapel until 10:45 a.m. The biography was read by Father Richard A. Aylward. Mass of Christian Burial was concelebrated in Queen of Apostles Chapel on February 10, 2015 at 11:00 a.m. Father Kevin J. Hanlon was Principal Celebrant and homilist. Burial followed in Maryknoll Society Cemetery with Father Kevin J. Hanlon conducting the graveside service.